Department Annual Report Released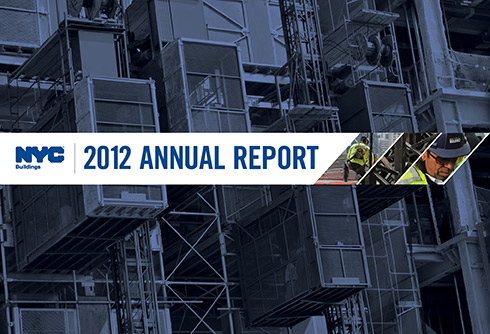 We're pleased to announce the release of the New York City Department of Buildings' 2012 Annual Report. In it, you'll learn how we expanded the NYC Development Hub to make it easier to build and how we are helping thousands of New Yorkers rebuild their homes after Hurricane Sandy. 2012 was a pivotal year for our Department, and we're pleased to show you how much we have done to keep our City safe ― and vibrant.
Review the 2012 Annual Report in Flash
---
Construction Safety Week 2013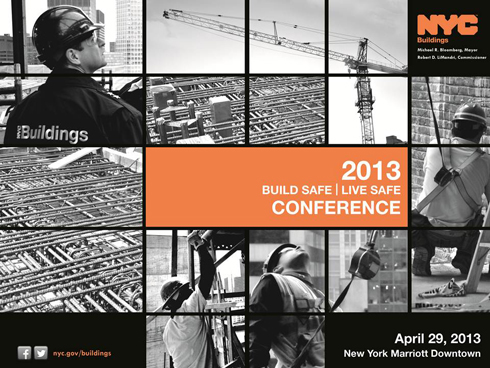 We kicked off the annual Construction Safety Week on April 29 with our sold-out 2013 Build Safe | Live Safe Conference at the New York Marriott Downtown. At the conference, we announced the results of Operation: Low Rise, a two-month inspection sweep of low-rise construction sites throughout the City. During detailed inspections at 920 sites, inspectors found unsafe conditions and issued full and partial Stop Work Orders at 12% of the locations. To combat the danger found at some low-rise sites, our inspectors are distributing more than 10,000 new Experience Is Not Enough flyers to educate workers about proper fall protection and safe construction using C-joists.
See the New Experience is Not Enough Flyers
---
Office Renovations ― Updated
We're making progress on our renovations at the Manhattan Borough Office's Plan Examination area! The modernization should be completed in June ― giving you more space for appointments and easier collaboration with design professionals. Ultimately, we'll also incorporate new technology into the review process. See our temporary service locations until our renovations are finished:
Plan Examination: Floor 6
Fast Track Applications: Floor 3, Window 27
Fee Estimation, Civil Penalties, Manual Filing:Floor 3, Window 29
Plan Exam Appointment Rescheduling: Floor 3
Professional List: Floor 6, Receptionist Area
Extended Plan Exam Hours: Floor 3, Tuesdays 4pm–6pm
We are also modernizing the offices of our Cranes and Derricks Unit! Beginning Monday, June 3, C+D will be operating on the sixth floor at 280 Broadway. Once completed, our improved offices will better accommodate our services. To facilitate this process, C+D will be closed on Friday, May 31 and will resume operations on Monday, June 3 on the sixth floor.
Service Updates
Filing Representatives
Becoming Class 1 or 2
Renewing Registration
1 RCNY 104-24
AHV Renewals
PW1 BIS Search
Special Inspection Agencies Registration Requirement
Deadline Information
Place of Assembly COs
Recent Changes
Hurricane Sandy Fee Relief
Restoration: RBAT Services
Fee Waivers for Businesses
Application
Scaffold Safety
Notifications + Requests
Benchmarking Reports
Deadline Extended
New Payment Methods
NYC Development Hub
Electrical Firms
Monopoles
Installation + Maintenance
---
Upcoming Events
Acting Assistant Commissioner Christopher Santulli, PE, is the keynote speaker at the June 12 Setting the Standard Conference, where he will outline will be outlining the Department's BIM site safety guidelines.
---
Hearings + New Rules
Retaining Wall Inspections, Penalties + Waivers
05.28.13 @1pm 280 Broadway
Filing Representative Rules
Effective 04.14.13
Energy Efficiency Reports + Energy Code Compliance Review Fees
Effective 03.31.13
Illegal Hotels - New Violation Charges
Effective 03.29.13
---
Bulletins
2013-006 establishes procedures for work involving fuel gas distribution piping within fire-resistance-rated construction in existing buildings undergoing alterations, replacement and repairs.
2013-005 clarifies that hostel-type accommodations are considered to be illegal rooming units (except for certain grandfathered units, and units operated by nonprofits and City agencies).
2013-004 establishes acceptance criteria for gas-fired, direct-vent, space-heating appliances used to heat rooms for sleeping (superseding Bulletin 2012-005).
---
Did You Know...?
The Second Circuit Court of Appeals has reinforced the Department's jurisdiction regulating the cranes that operate in New York City.
By affirming a lower court's dismissal of Steel Institute of New York vs. City of New York, the Court of Appeals denied claims that the City's crane laws are preempted by OSHA regulations.