Accredited
by The Joint Commission

Jacobi Medical Center is a member of the National Health Service Corps.

Jacobi receives the National Association of Public Hospitals and Health Systems (NAPH) 2011 Safety Net Patient Safety Award for its Reducing Adverse Outcomes on Labor and Delivery initiative.
Learn more (in PDF)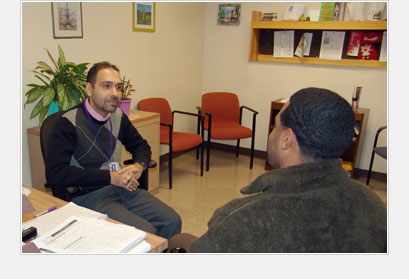 Behavioral Health Services


Comprehensive Alcohol Treatment Center


Acute Psychiatric Care (Inpatient)
127-bed inpatient facility for acute psychiatric illness including inpatient detox


Psychiatric Emergency Room


New York State (NYS) certified Comprehensive Psychiatric Emergency Program




ACTTeam


Assertive Community Treatment Program - Sometimes people who suffer from severe mental illness are not able, for a variety of reasons, to come in to the office for the care they need. The Assertive Community Treatment (ACT) Team is a mobile team which delivers treatment, support, and rehabilitation services to individuals who cannot come in for the treatment they require.




Adult Outpatient Services
The Adult Service is a psychiatric outpatient program for the needs of people age 18 to 60 that have psychiatric or emotional problems which get in the way of daily functioning. Our highly trained staff can evaluate your problems and make recommendations for treatment in a safe, confidential, and respectful environment.


Child & Adolescent Outpatient Services


The Child & Adolescent Service is a psychiatric outpatient program for the emotional needs of children and adolescents ages 5 to 18 and their parents. We help to identify your child's emotional needs, provide access to treatments that are scheduled at your convenience, and keep your child on track in your home, school, and community.





Geriatric Outpatient Services




The Geriatric Center features a psychiatric outpatient program to help people over age 60 with psychiatric or emotional problems which get in the way of daily functions. Our staff is highly trained in understanding the special needs people have as they grow older. We can help you with any difficulties you may be experiencing as part of the adjustment to aging.





Family &Youth Addiction Outpatient Program




The Family and Youth Addiction Program is an outpatient chemical dependency youth program designed to help youth who are at risk for substance use and abuse or have been significantly affected by a significant other's substance abuse.The program also offers support for adult caregivers and others whose relationship with a youth has been affected by chemical dependency.