Healthy Living Tips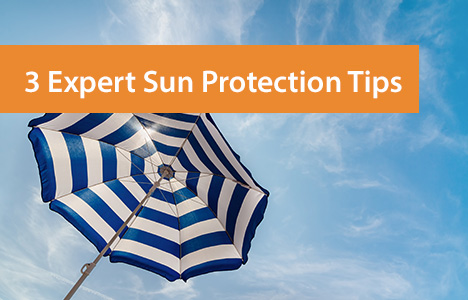 Most people know UV radiation from the sun can cause skin cancer. But did you know that the sun's rays are also responsible for more than 90% of visible changes commonly attributed to skin aging, such as wrinkles, sagging, dryness, moles, and dark blotches? The sun's rays tend to suppress the skin's immunity, making some people more prone to cold sores or other skin infections.
Fortunately, a sunscreen with at least 30 SPF (sun protective factor) can protect your skin from the sun's harmful rays. Here is what you should know to stay protected:
1. Apply Sunscreen Correctly
Apply about two heaping tablespoons of sunscreen to the exposed areas of the body and a nickel-size dollop just to the face before heading outdoors.
2. Protect Yourself Daily
On a daily basis, you can protect yourself by using moisturizers or cosmetics that include sunscreen. Just make sure the products you are using offer at least 30 SPF.
3. Remember to Reapply
Sunscreen ingredients are broken down by sunlight, water, and sweat, so make sure to reapply sunscreen every two hours. Keep in mind that "water-resistant" sunscreens are protective for either 40 or 80 minutes, so read labels carefully and reapply accordingly after swimming.
Article contributed by Miguel Sanchez, MD Chief of Dermatology, HHC Bellevue Hospital Center
Take care of your skin.