A New Healthcare Facility For Disabled New Yorkers Honors Man of Deep Faith Who Unlocked Doors to Mobility
HHC President Alan D. Aviles,
HHC SVP LaRay Brown, Hank Carter,
Exec. Director Robert K. Hughes.
Hundreds gathered in East Harlem inside the white, air-conditioned tent on a recent sunny August morning to celebrate the opening of the Henry J. Carter Specialty Hospital and Nursing Facility and pay tribute to a man who for decades unlocked the doors to mobility, to learning, and to independence for thousands of disabled New Yorkers.
HHC President Alan D. Aviles, Congressman Charles Rangel, Former Governor David Paterson, Former UN Ambassador Andrew Young, NYC Deputy Mayor Linda I. Gibbs, NBA Hall of Famer Bernard King and Jerrel Slade, a future resident of the Carter facility, were among the impressive list of supporters who, one by one, took turns at the microphone to reflect on the historic occasion and share personal stories about how their lives have been touched by Henry "Hank" J. Carter's kindness.
When Carter took the stage, the crowd got on their feet with cheers and applause. Everyone was anxious to hear his response to this tribute and what he thought about the amazing new six-story structure that stood a few hundred feet away, at Park Avenue and 122nd Street, bearing his name.
"We have only one person to thank today," said Carter. "And that person is God." He said thank you a few more times, smiled, nodded to the crowd and stepped away from the podium.
For those who know him well, Carter's brief and humble words were no surprise. As a man of deep faith, he takes no personal credit for his good deeds.
"I know Hank will cringe to hear people say he's a saint," said HHC President Aviles. "While he may not agree with us calling him a saint, I think he would agree that through his ministry of love over the last forty years, he has been the hand of God."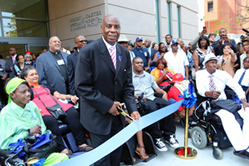 Hank Carter with friends, including
residents from Coler-Goldwater.
Forty years ago, Carter started with a small dream of buying a few wheelchairs for the patients on HHC's Goldwater Young Adults Ward. Since then, Carter has donated more than $25 million to HHC for a variety of equipment and programs for patients and residents with profound disabilities. He has also spent countless hours visiting residents, joining their special birthday and other celebrations, and always sharing a kind word and prayer.
Ready to welcome residents in October, the new Henry J. Carter Specialty Hospital and Nursing Facility features two separate buildings with a combined 365 beds for two distinct types of healthcare services: long-term acute care and skilled nursing care. The facility was built on the grounds of the former North General Hospital and will be the new home to patients and residents who are relocating from the Goldwater campus of the HHC Coler-Goldwater Specialty Hospital and Nursing Facility on Roosevelt Island.
The 210-bed, long-term acute care hospital will serve high acuity, medically fragile patients, many of whom require ventilator support, and patients with multiple chronic medical conditions that significantly impact life functioning, such as respiratory failure, congestive heart failure, uncontrolled diabetes, complex infections and complex wounds. Carter's 164-bed Skilled Nursing Facility will admit residents whose medical needs require management and care that cannot be provided at home.
At the ribbon-cutting to mark the opening of the new healthcare facility, Carter was fittingly surrounded by his extended family members and residents of Coler-Goldwater, many who were able to attend the celebration thanks to the wheelchairs he has donated.
"Today is a testimony to Hank Carter, who has changed lives for the better in ways that few have succeeded and where so much is needed," said Jerrel Slade, a former Goldwater patient who will be a resident of the new Henry J. Carter facility. "For me and for many people, this new facility will make a difference."
Following the Goldwater tradition, patients and residents of the new hospital will be able to participate in a variety of interactive activities, programs and services that promote a sense of family and home or that facilitate and enrich each person's access to the world beyond the hospital.
"It will still be possible to tune in to the hospital's radio station or swap stories while getting a new style at the beauty salon," said Robert K. Hughes, Executive Director of Coler-Goldwater, who will also serve as the Executive Director of the new Carter facility. "In every way, we look forward to seeing Goldwater's staff, patients, and residents breathe life into Carter and usher in the new era of care that our patients and residents deserve."
The Henry J. Carter Specialty Hospital and Nursing Facility at 1752 Park Avenue and 122nd Street in Manhattan, will open to patients and residents in the fall. To learn more or schedule an appointment, call (646) 686-0000 or visit nyc.gov/henryjcarter.