HHC President Aviles Among 100 Most Influential People in Healthcare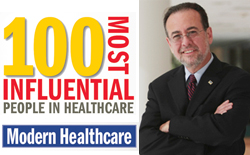 HHC President Alan D. Aviles has been selected by Modern Healthcare Magazine as one of the 100 most influential people in healthcare in the United States. Aviles made the list for the fourth time since the list started in 2002, marking his leadership and influence in the local and national healthcare landscape. Aviles joins an impressive list of leaders that includes President Obama and Health and Human Services Secretary Kathleen Sebelius.
As the longest-serving President and CEO of HHC, Aviles is recognized for helping execute a vision for HHC focused on increasingly safe, efficient, effective and patient-centered care. Mr. Aviles is credited for leading efforts to better manage chronic diseases like diabetes and asthma, address healthcare disparities by increasing access, invest capital dollars strategically, and use cutting-edge technology to enhance efficiency, quality and patient safety.
View Alan D. Aviles' bio.