Doctors' Day 2013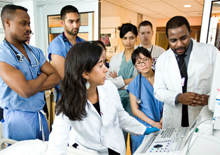 HHC honored 28 physicians at a special ceremony in May for their commitment to advancing the mission of the New York City public hospital system. The awards were presented to primary care doctors, pediatricians, dentists, gynecologists, surgeons and other specialists at the annual HHC National Doctors' Day Ceremony, held this year at Baruch College in Manhattan.
The award-winning doctors were recognized for providing the highest quality healthcare to New Yorkers. They represent every borough and New York City residents' diverse ethnicity, and vary in age, education, specialties and years of service. Together they bring several hundred years of medical experience to bear on the expert care they provide to HHC patients.
Among the Doctors' Day Award winners is a group of six community physicians who represent HHC's relationship with doctors who serve outside the public hospital system and work closely with the public hospitals to manage care to HHC patients. These doctors have embraced and advanced HHC programs to improve patient safety and the effective treatment of chronic diseases in children and adults, such as asthma and diabetes.
Read more about this year's Doctors' Day Award Winners.