Breakthrough and Move Up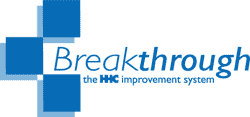 As Chief Nurse Executive, Denise C. Soares, RN, led an initiative that improved nursing care, patient flow and patient satisfaction at Jacobi Medical Center and North Central Bronx Hospital a few years ago. At Metropolitan Hospital, Todd Hixson helped lower the readmission rates of congestive heart failure patients by a third. And at Bellevue Hospital, Reina Smith and her colleagues successfully organized and managed the flow of patients and emergency medical workers during the evacuation after Hurricane Sandy.
While Soares, Hixson and Smith tackled different challenges at their respective hospitals, they all accomplished improvements by using the same Toyota Production System, or lean approach, known as Breakthrough at HHC, to help staff improve services, eliminate waste, cut costs and improve the patient experience.
Breakthrough leaders
become HHC leaders
1 Executive Vice President
2 Senior Vice Presidents
3 Chief Operating Officers
1 Chief Financial Officer
7 Associate Executive Directors/Service Line Directors
1 Managed Care Director
1 Ambulatory Care Manager
1 Chief Information Officer
4 Breakthrough Deployment Officers
The method engages staff at all levels and provides a philosophy, system and tools to make rapid and lasting change happen. Since adopting the Breakthrough system in 2007, HHC has realized $250 million in new revenue and cost savings.
"This approach to problem solving provides an opportunity to help staff improve their workflow, practice and environment," Soares said. "When we involve staff as active participants in their work we can enhance their satisfaction and pride, which also improves patient satisfaction."
These HHC leaders are recognized for adopting the Breakthrough philosophy and tools into every aspect of their work. They use "Hoshin Kanri" - Japanese for a methodology for aligning the organization toward strategic goals, and walk the "Gemba" - Japanese for where the work is done – to see for themselves the activity of staff and patients.
As Breakthrough champions, they also share another experience: they have all developed the leadership skills needed to assume larger and more challenging roles throughout the HHC public healthcare system.
Leadership in Breakthrough has provided a career path for at least 21 HHC administrative and clinical leaders who have moved up to more challenging positions, said Joanna Omi, who oversees the implementation of Breakthrough at HHC and was recently promoted to Senior Vice President for Organizational Innovation and Effectiveness to reflect how this improvement process has become part of the organization's strategic priorities.
"The Breakthrough initiative helps ensure that HHC is the place patients want to go for the best, safest, and most compassionate care," said HHC President Alan D. Aviles. "Effective leaders are those who listen to, respect and support staff in finding and eliminating waste, identifying better ways to do our work and putting improved processes and procedures in place."
Soares was promoted to Executive Director of Harlem Hospital Center and earlier this year was named HHC Senior Vice President for the Generations Plus/Northern Manhattan Healthcare Network, which includes Harlem, Lincoln Hospitals and other large community health centers.
Reina Smith is now Associate Executive Director for Community Health Services, responsible for implementing the patient centered medical home model at Bellevue Hospital.
"Breakthrough is second nature to me now," Smith said with a laugh. "When I use planning tools like the nine-step A3 process or the 2P process preparation, it's just part of my natural thinking and work flow."
Todd Hixson became Metropolitan Hospital Center's first Breakthrough Deployment Officer and is now service line leader for Emergency and Inpatient Medicine at Metropolitan.
"I was very interested in connecting financial information to operating issues and decisions. Reducing healthcare spending and improving health outcomes are among the nation's most important policy priorities, and I wanted to be a part of the solution" said Hixson, who coordinated more than 100 planning and rapid improvement events involving more than 450 people to improve many clinical and administrative services.
William Hicks, who after serving as Breakthrough Deployment Officer was promoted to Chief Operating Officer at Lincoln Medical Center, added: "I look at Breakthrough as a way to organize and empower staff and provide a very learnable process to tackle some very tough and complex challenges."
Breakthrough has been a career path for:
Kristen Baumann – Breakthrough Deployment Officer, Metropolitan Hospital Center
Laura Free – Managed Care Director, HHC
Chris Fugazy – Chief Operating Officer, Jacobi Medical Center
Victor Hernandez – Breakthrough Deployment Officer, Gouverneur Health Services
William Hicks – Chief Operating Officer, Lincoln Medical Center
Todd Hixson – Service Line Leader for Emergency and Inpatient Medicine, Metropolitan Hospital Center
Antonio D. Martin – Executive Vice President, HHC
Christopher Mastromano – Associate Executive Direct/Service Line Leader, Kings County Hospital Center
Afsheen Mazhar –Associate Executive Director/Service Line Leader, Queens Hospital Center
Sheldon McLeod – Chief Operating Officer, North Central Bronx Hospital
Alina Moran – Chief Financial Officer, Elmhurst Hospital Center
Vincent Mulvihill – Associate Executive Director/Service Line Leader, Woodhull Medical and Mental Health Center
Joanna Omi, Senior Vice President, HHC
Sandhya Parathath – Associate Executive Director/Service Line Leader, Bellevue Hospital Center
Robert Patterson – Chief Information Officer, Health and Home Care
Ameer Robertson – Breakthrough Deployment Officer for Morrisania, Belvis and Renaissance Diagnostic and Treatment Centers
Lorinda Sherwood – Associate Executive Director/Service Line Leader, Woodhull Medical and Mental Health Center
Reina Smith – Associate Executive Director for Community Health Services, Bellevue Hospital Center
Denise Soares – Senior Vice President, Generations Plus/North Manhattan Health Network, Executive Director, Harlem Hospital
Dean Tarnovsky – Breakthrough Deployment Officer, Bellevue Hospital Center
Lorraine Wint-Johnson – Ambulatory Care Manager, Bellevue Hospital Center