Tips to Keep Allergies at Bay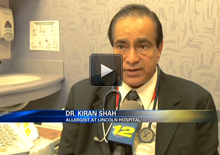 Watch the video: News 12 Bronx
Doctor gives tips on suppressing allergies
News 12 Bronx, 04/11/13
With allergy season coming into full swing, Dr. Kiran Shah of Lincoln Medical Center provides some tips on how to control your allergies.
Know your allergens, whether they are flower blossoms, grasses or trees. Once you become familiar with what triggers allergy symptoms, you'll be in a better position to control your
exposure to it.
Because pollen travels long distances, if you are indoors, keep your doors and windows shut. In the car, drive with your windows shut.
Limit your exposure to allergy triggers by staying indoors on dry, windy days. The best time to go outside is after it rains, when pollen is cleared away.
Avoid outdoor activities in the early morning when pollen counts are at their highest.
If you have been outdoors, take a shower to rinse off pollen and remove clothes that you have worn outside.
Check the weather report for high pollen count days — this is now reported as part of local weather. When the count is high, stay inside and use your air conditioner. If you have to go outside, wear a mask.
Make sure you change the filter on your air conditioner frequently and use a vacuum cleaner with a filter.
Try over the counter treatments like antihistamine pills that relieve sneezing, itching, runny nose and watery eyes. Rinse your sinuses and nasal passages using distilled sterile water. Drug stores often sell squeeze bottles or a neti pot – a special container for rinsing your nose. This helps relieve nasal stuffiness because it cleanses away the pollen and other substances.