Simulation Course Draws International
Participants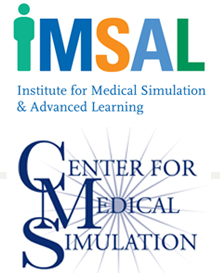 HHC's Institute for Medical Simulation and Advanced Learning (IMSAL) hosted a medical simulation course on April 24-27 for healthcare professionals who have become medical simulation instructors. The course was taught by Harvard Medical School faculty from the Center for Medical Simulation in Cambridge, Mass., a global leader in the field of healthcare simulation, and attracted participants from HHC hospitals and other facilities in New York State, California and the Mayo Clinic in Minnesota; and from as far away as Chile, Lebanon and Singapore.
It was the second year that IMSAL staff members hosted the instructor course and IMSAL Director Katie Walker, RN, said the course's popularity will continue to grow. "Medical and nursing schools and hospital systems, both public and private, are embracing simulation as a teaching technique. The emphasis in the medical simulation world right now is developing educators who deeply understand simulation and its applications," Walker said.
Titled "Simulation as a Teaching Tool", the course was an intensive immersion in healthcare simulation for those educators seeking to create high-quality healthcare simulation programs. Using life-like, high-fidelity mannequins and other equipment that simulates real-life medical scenarios, participants explored simulator-based teaching methods applicable for a wide range of healthcare education for undergraduate and graduate medical, nursing and allied health professionals.