Brazilian Delegation Visits Peer Counseling Program at Kings County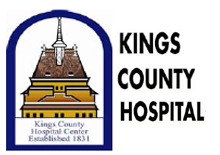 A delegation of mental health professionals from Brazil met with members of the Behavioral Health Services team at Kings County Hospital Center in February to learn first-hand about the hospital's Peer Counseling Program, which engages full time staff who were once mental health patients themselves. Working with psychiatrists, psychologists, internists, nurses, social workers, and other providers, the Peer Counselors serve as navigators, mentors and advocates for the patients.  
"The peer counselors bring a unique perspective and a special compassion to the team as we provide care to patients with dignity in a safe and secure environment," said Dr. Miriam Azaunce. "It's definitely a program worth emulating." 
The visiting mental health professionals, who are part of the Global Mental Health Center at Columbia University and funded by the National Institute of Mental Health, met with Dr. Azaunce and Jonathan Edwards, LMSW; and Peer Counselors Silvett Vargas, Mat Costanzo, Joanne Wolff and Mark Davis. The medical professionals hope to start a similar program in Brazil and other Latin American countries.