Coler-Goldwater Tackles Geriatric Depression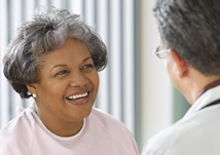 Are you basically satisfied with your life? Do you feel your life is empty? These may not be the usual questions asked when your loved one is admitted to a long-term acute care hospital, but at Coler-Goldwater Specialty Hospital and Nursing Facility, these and more discriminating questions are routinely being asked to patients 65-years and older in an effort to address the growing rates of depression among the elderly.
"Depression is widespread among the elderly, especially those in hospitals and nursing homes. We also know that older people have the highest suicide of any group, and many of their common medical problems may be related to, or intensified by, a depressive disorder." said KLV Raju, MD, Chief of Hospital Medicine at Coler-Goldwater.
That's why in 2010 the team at Coler-Goldwater adopted the use of a Geriatric Depression Screening Tool (GDS) which allows primary care physicians to assess if a patient is having emotional difficulties and ensures patients are immediately directed to the mental health services they need.
"By adopting this effective and well-validated screening test, we can quickly identify depressive symptoms among the elderly, monitor treatment and help our patients get well," added Dr. Raju.
A 2010 study published in The Journal of Gerontological Nursing found that because of the prevalence of depression in nursing home residents, it's essential that nursing home workers be able to identify early indicators of depression before mood-related symptoms arise. Other research from the University of Missouri found that some elderly patients exhibit additional clinical changes as their depression develops. Early identification of these characteristics – which include increased verbal aggression, urinary incontinence, increased pain, weight loss, lowered cognitive ability or a decline in performing daily activities -- can lead to quicker treatment and improved results.
The GDS tool used by the Coler-Goldwater team is based on 30 questions worth one point each, with scores that range from 0–9 for normal, 10–19 to indicate mild depression, and 20 or more points to suggest severe depression. Since GDS was implemented in March, 2010, a total of 352 patients 65 years old and over have been screened. Approximately 20% had a depression diagnosis and were referred to Psychiatry.
"Depression left untreated can lead to a resident's lower quality of life. So even if only one patient had been identified by the GDS and connected to the mental health services they need, we would consider the implementation a success," added Dr. Raju.
Other experts at Coler-Goldwater note that medical practitioners too often ignore the mental and emotional aspects of the elderly patient and instead just focus on the physical complaints and diagnoses.
"It's a peculiar form of ageism" said Dr. Yolanda Bruno, Medical Director at Coler-Goldwater.
Dr. Bruno says that health practitioners often assume that the elderly have a lot to be unhappy about since they often suffer from chronic diseases and also experience the loss of family and friends.
"This may, unwittingly, contribute to the failure to identify and treat a depressive disorder," says Dr. Bruno. "The GDS helps focus the primary care physician on this issue and gives them a useful tool to assess for depression and seek specialty consultation if necessary for treatment."
The Coler-Goldwater team recently received kudos for their leadership in depression screening among the elderly. During its triennial unannounced survey earlier this year, The Joint Commission (TJC) surveyors were impressed that the Geriatric Depression Screening tool was integrated into the admission process at the hospital and noted this effort as an important patient-centered element of care. Coler-Goldwater once again received their JC accreditation with accolades.