News
FOR IMMEDIATE RELEASE
August 21, 2015
HHC Elmhurst Hospital Center Recognized for Excellence in Lactation Care
Honored by the International Board of Lactation Consultant Examiners®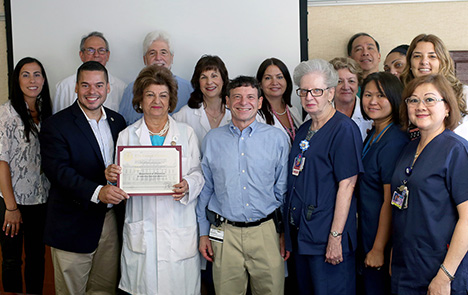 (Elmhurst, NY – August 21, 2015) The New York City Health and Hospitals Corporation (HHC) Elmhurst Hospital Center, has been recognized for excellence in lactation care by the International Board of Lactation Consultant Examiners® (IBLCE®) and International Lactation Consultant Association® (ILCA®).
The hospital's Center Women and Children's Division has received the IBCLC Care Award for providing a lactation program that is available 5-7 days a week for breastfeeding families, as well as having on its staff professionals who hold the International Board Certified Lactation Consultant® certification (IBCLC). In addition, the hospital had to demonstrate it provided breastfeeding training for medical staff who care for new families, and have recently completed activities that help protect, promote, and support breastfeeding.
"Our staff works hard to create an environment where mothers feel supported and encouraged to breastfeed," said Chris Constantino, Senior Vice President of the Queens Health Network and Executive Director, Elmhurst Hospital Center. "It is our job to make sure new moms have access to trained and compassionate staff to help them make these important decisions." 
"Elmhurst Hospital Center provides exceptional education and support," said Dr. Barry Brown, Director of OB/GYN, Elmhurst Hospital Center. "Breastfeeding is among the most important things that can help give lifelong benefits to the newborn and mother."
"Elmhurst Hospital provides our community with high quality medical care, and its lactation program is yet another example of the valuable attention they provide families at every stage of their lives," said Council Member Julissa Ferreras-Copeland, 21st Council District. "I am very proud of this accomplishment and congratulate Elmhurst Hospital on receiving the International Board Certified Lactation Consultant Care Award."
"This recognition highlights the efforts being made by maternity facilities all across the world to help mothers get off to a good start with breastfeeding, and to support them in reaching their goals," said Decalie Brown, President of ILCA. "IBCLC is the leading internationally recognized lactation certification in the world, and IBCLC certificants are highly skilled in helping mothers with the questions and concerns that can arise. They are also an important part of the overall maternal and child health team by assuring that evidence-based policies and practices are in place that help mothers succeed with breastfeeding."
IBLCE certificants focus on preventive care, so they are available during pregnancy to assess the mother and provide information on how to successfully initiate breastfeeding. They continue assistance after the baby is born by helping mothers overcome breastfeeding challenges, providing accurate information, and continuing to support them as their baby grows. They assist mothers returning to work or school, help mothers in more unusual situations such as breastfeeding more than one baby or nursing a sick or premature infant, and help train nursing staff to manage basic breastfeeding care.