News
FOR IMMEDIATE RELEASE
July 16, 2015
HHC Elmhurst Hospital Center Teams With March of Dimes to Reduce Preterm Births
Joins March of Dimes' "Healthy Babies are Worth the Wait®" community program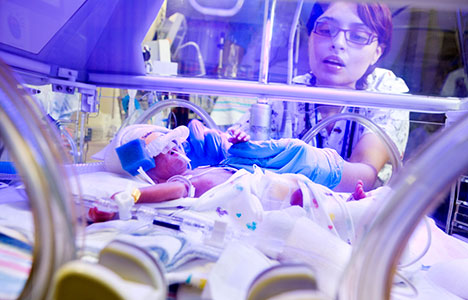 (Elmhurst, NY) - Mr. Chris Constantino, Senior Vice President of the New York City Health and Hospitals Corporation (HHC) Queens Health Network and Executive Director of Elmhurst Hospital Center, announced today that HHC Elmhurst has teamed with March of Dimes to launch the group's Healthy Babies are Worth the Wait program in New York City. The program aims to reduce the incidence of preterm births by providing the framework for communities to work together to prevent preterm birth by applying what it calls the "5P's"- Partnerships, Provider initiatives, Patient support, Public engagement and Progress measurement.
"Partnering with the March of Dimes for the Healthy Babies are Worth the Wait initiative allows HHC Elmhurst to continue advancing maternal and infant health to help ensure pregnant women and their infants get the appropriate health care at the appropriate time," said Mr. Constantino. "Elmhurst Hospital Center is committed to reducing pre-term births in Queens by educating pregnant women in our community about the importance of prenatal care, and helping them access the services they need."
Demonstration projects conducted by March of Dimes have shown that the application of Healthy Babies are Worth the Wait community program could successfully integrate public and clinical health, improve systems of care, and reduce preterm birth. March of Dimes has implemented Healthy Babies are Worth the Wait programs at 30 sites across five states, including Kentucky, Texas, Kansas, New Jersey and New York.
Under the Healthy Babies program, HHC Elmhurst will focus on women at increased risk of preterm labor/preterm birth and ensure access to 17P (a form of progesterone to help prevent preterm birth), cervical length assessments in the second trimester, and periodontal disease treatment in a setting devoted to patients with a history of premature births. These patients will receive enhanced care including pharmacological treatments, preventative therapies, and stress reduction therapy.
"In my experience, most women who become pregnant expect the best possible outcome even when there exist significant risk factors in their personal medical history, past obstetrical and social history that may lead to a poor outcome," said Dr. Sandra McCalla, Chair, March of Dimes New York Division Program Services Committee. "Though the prematurity rate in New York State is about 10 percent and significantly greater in some New York City neighborhoods and among disadvantaged women, there is a gap in knowledge among patients and a disparate offering of available interventions known to modify the risk of recurrent or initial preterm births. The Healthy Babies are Worth the Wait program aims to combine clinical, community and innovative patient education efforts to promote awareness especially among patients; facilitate implementation of existing interventions; and thereby reducing the number of preventable premature births."
The Queens Healthy Babies are Worth the Wait community program is conducted in partnership with Empire BlueCross BlueShield Foundation and Johnson & Johnson.
Patients seeking more information on Elmhurst's women's health services should call (718) 334-2735.