News
FOR IMMEDIATE RELEASE
June 4, 2015
HHC Bellevue Doctors Help Set New Guinness World Record in American Heart Association's CPR Relay in Times Square
Event Raises Awareness that CPR Saves Lives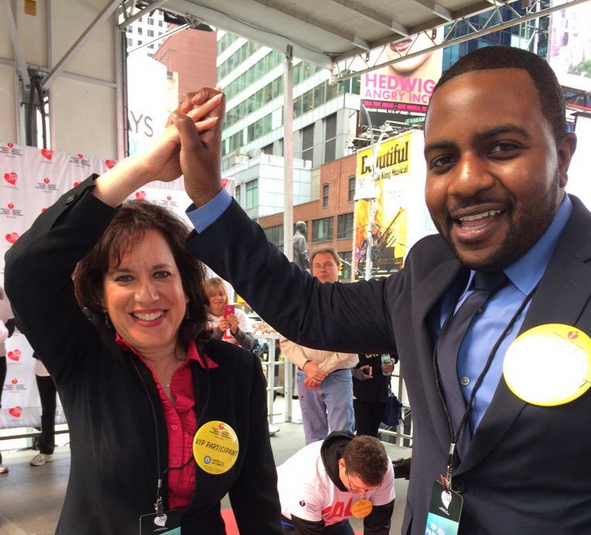 (New York, June 4, 2015) Physicians and leaders from the New York City Health and Hospitals Corporation's (HHC) Bellevue Hospital Center today participated in the American Heart Association's Hands-Only CPR relay in Times Square that set a new Guinness World Records title and brought awareness to the life-saving skill of cardiopulmonary resuscitation. About 40 Bellevue physicians, nurses and staff, and 700 people altogether participated in the CPR relay.
"Performing Hands-Only CPR can as much as triple the likelihood of surviving a cardiac arrest. This event sends a strong message to the community about how easy and how important it is to learn Hands-Only CPR," said Norma Keller, MD, Chief of Cardiology and Chair of the CPR Committee at HHC Bellevue. "Cardiac arrest is a leading cause of death in this country. In New York City, less than 10 percent of cardiac arrest victims survive. We can change that by learning Hands-Only CPR so that in an emergency, we can save a life.
"The idea for today's event came about a few years ago when Bellevue physicians in the cardiac clinic were trying to think of ways to expand CPR training," Dr. Keller said. "Too many patients had been brought to the hospital after suffering cardiac arrest and not receiving CPR."
The doctors started looking for a way to make the public aware of how easy and effective it is to perform hands-only CPR, or cardiopulmonary resuscitation, which means applying uninterrupted chest compressions without rescue breathing until paramedics arrive. The Bellevue cardiologists, Drs. Larry Philips, Robert Roswell, Kelly Axsom and Reva Balakrishnan came up with the concept of attempting to set a Guinness World Record of Most People in a CPR Relay, as a way to raise awareness. Dr. Philips, an attending physician at Bellevue and Director of Nuclear Cardiology at NYU Langone Medical Center, took the idea to the American Heart Association of New York City, where he is a member of the Board of Directors.
"We're thrilled to see this exciting event happen," Dr. Keller said. "This will create an army of thousands armed with the simple basic skill of saving a life through hands-only CPR."
The American Heart Association hosted the event today for more than 12 hours (from 7AM-7PM) to train hundreds of people in hands-only CPR, and to help prepare more people to save lives in the event of a cardiac emergency. The relay took place from 7AM – 7PM in Times Square near 46th Street and Broadway. This is National CPR & AED Awareness Week.
To set the new Guinness World Record of Most People in a CPR Relay, pre-selected participants performed a continuous Hands-Only CPR relay on stage all day. Participants included celebrities, athletes, media representatives, high profile corporate executives, hospital leaders, political figures, survivors, and more.
Cardiac arrest is a leading cause of death with more than 326,000 out-of-hospital cardiac arrests occurring annually in the United States. Ninety percent of people who suffer out-of-hospital cardiac arrests die. 
Participants from Bellevue Hospital included members of the CPR committee who have been key in the event's organization and promotion, including: Dr. Douglas Bails, Dr. Reva Balakrishnan, Dr. Larry Chinitz, Dr. Edward Katz, Dr. Norma Keller, Dr. Nathan Link, Dr. Larry Phillips and Dr. Robert Roswell.