News
FOR IMMEDIATE RELEASE
March 26, 2015
HHC Jacobi Advances Cardiac Care With New Heart Monitor
Jacobi has begun offering a new, smaller and more powerful system for continuous monitoring of heart activity in patients with cardiac arrhythmia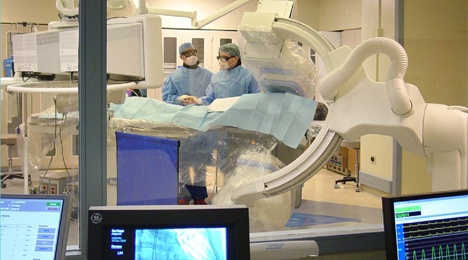 (Bronx, New York) William P. Walsh, Senior Vice President of the New York City Health and Hospitals Corporation's (HHC) North Bronx Healthcare Network and Executive Director of HHC Jacobi Medical Center, announced today that Jacobi has begun offering a new, smaller and more powerful system for continuous monitoring of heart activity in patients with cardiac arrhythmia (irregular heart beat). Cardiac monitors are often recommended for patients experiencing heart rhythm irregularities such as atrial fibrillation that can result in symptoms including dizziness, palpitation, fainting, chest pain or stroke. Continuous monitoring allows physicians to determine a patient's cardiac activity over a longer period of time than standard external monitors, and can provide real-time alerts in case of cardiac events, leading to more timely interventions.
"HHC is committed to bringing the best care available to the City's public hospital system," said Mr. Walsh. "We want our patients to have access to the latest technologies, and we also want to be sure that those technologies are improving outcomes and reducing avoidable disease and hospitalizations."
The device is an insertable cardiac monitor that is approximately one-inch long and one-third the size of a AAA battery. It is placed just beneath the skin through a small incision in the chest, and provides continuous and wireless monitoring of cardiac activity. Should an alarming condition arise, the device transmits an alert to both the patient and his or her physician via a secular cellular signal. It also records cardiac rhythms for up to a three-year timespan.
HHC Jacobi Medical Center's began providing patients with the device late last year after it was approved for use earlier in 2014. It is implanted in a minimally invasive procedure at Jacobi's state-of-the-art cardiac catheterization lab.
Dr. Michael Grushko, Attending Physician of Arrhythmia and Electrophysiology at Jacobi, performs the procedure and sees the device as a significant advancement in long-term monitoring of patients who may be suffering from arrhythmias.
"Due to the transient nature of arrhythmia issues, they may be missed on standard cardiac monitors that are typically used externally for 24-hour periods and then removed," said Dr. Grushko. "This device allows us to effectively monitor patients continuously and remotely, and then quickly intervene at the first sign of trouble."
Moreen Hunter, 53, from the Olinville community of the Bronx, is a HHC patient who recently received the device at Jacobi. She suffers from hypertension and coronary artery disease, as well as a variety of other ailments.
"The incision was very small, I was able to get back on my feet the same day," said Ms. Hunter, "Now if I feel dizzy I'm able to check the device for peace of mind. By doing so, I'm also able to prevent unneeded trips to the hospital."
Dr. Grushko said, "As technology continues to advance at a rapid pace, the opportunities we will be able to afford our patients also increases at an exponential level. I have every confidence that devices such as this, given its quick insertion and patient recovery times, will soon become the medical standard for long-term monitoring of potential cardiac arrhythmia issues."
The device, called "Reveal LINQ," is manufactured by Medtronic.