News
FOR IMMEDIATE RELEASE
November 13, 2014; 2:30 pm

Governor Cuomo Announces Completion of $21 Million Storm Resiliency and Energy Efficiency Project at Coney Island Hospital
Storm-Hardening Efforts by New York Power Authority and NYC Health and Hospitals Corporation Improve Hospital's Resiliency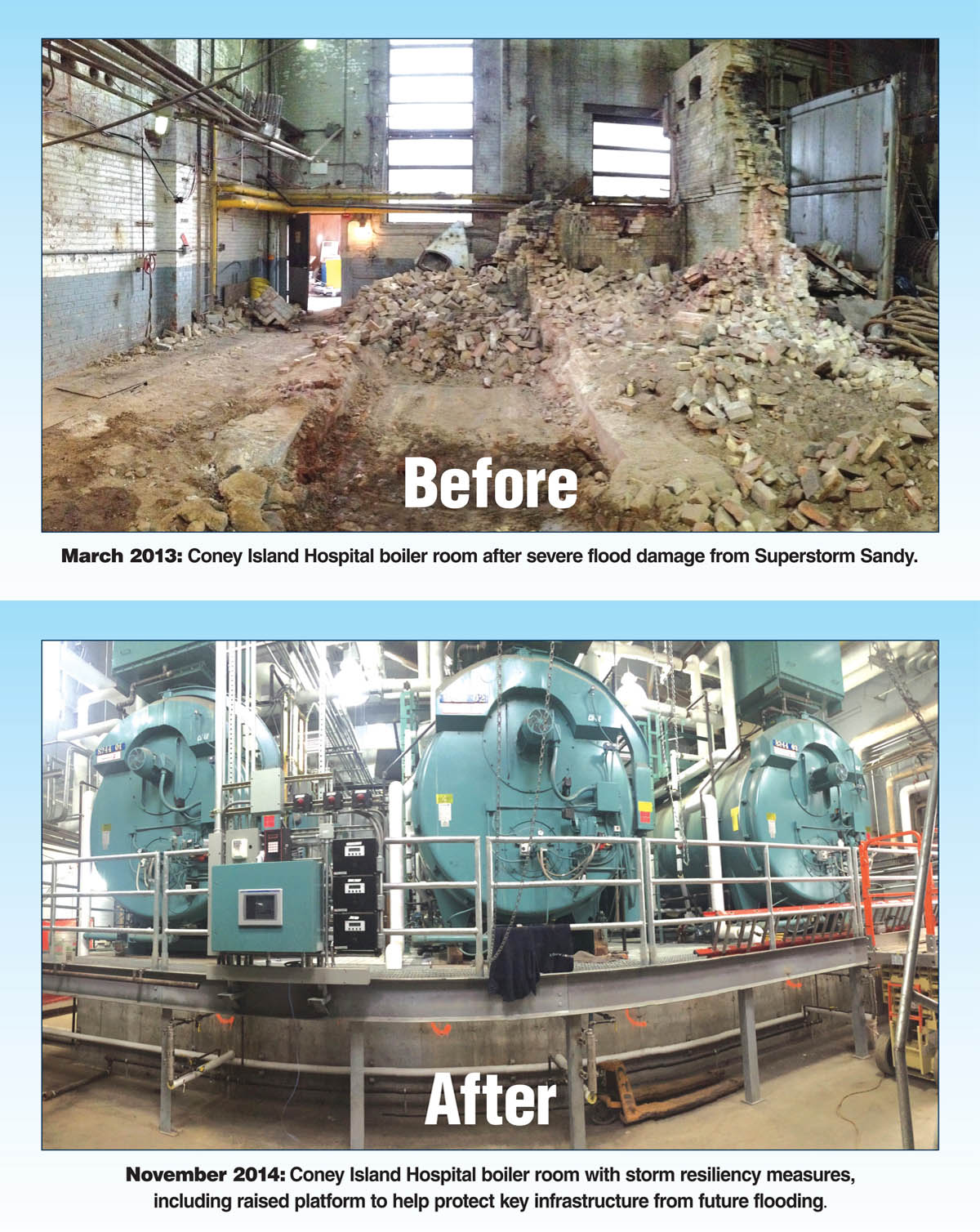 Governor Andrew M. Cuomo today announced the completion of a series of storm resiliency measures and energy efficiency upgrades at Coney Island Hospital that totaled $21 million. The enhancements will help protect critical equipment from extreme flooding like what the health-care facility experienced during Superstorm Sandy in 2012. In addition to fortifying the equipment, the improvements will save the healthcare facility, located in Southern Brooklyn, $1.5 million in annual energy costs and reduce harmful greenhouse gas emissions by more than 7,000 tons a year.
"Superstorm Sandy showed us the importance of proactively strengthening our infrastructure – especially our healthcare facilities – so it is more resilient to extreme weather," said Governor Cuomo. "These upgrades to Coney Island Hospital will enable the facility to better serve its community regardless of what Mother Nature throws at them. I am proud of the State and City's ongoing work to build back better."
The newly completed project is the result of a partnership between the New York Power Authority, the New York City Health and Hospitals Corporation and National Grid, which provided more than $300,000 in funding. The project was executed by Governor Cuomo's Build Smart NY program, a comprehensive statewide initiative to increase energy efficiency in public buildings. The project's completion comes amidst other major resiliency upgrades to Coney Island Hospital, for which the Federal Emergency Management Agency is providing more than $900 million in financial support.
The New York Power Authority began energy efficiency improvements at the hospital, including installing a new boiler plant and replacing windows and window air-conditioning units in early 2012. When Superstorm Sandy hit that fall, however, the hospital was severely damaged and the project was delayed. Once work resumed, NYPA, in addition to making the energy efficiency upgrades, repaired and fortified the location of the boiler plant to help prevent future flooding. Photos of the boiler room before and after the renovation can be viewed here. Video of the completed work is available here.
The Coney Island Hospital project is an example of a concerted effort made by New York State and New York City to build new and renovate existing facilities so they are more resilient and better prepared for future emergencies while making them more cost efficient to reduce operating expenses. By strengthening Coney Island Hospital's infrastructure and systems, it is now better equipped to care for patients, even during natural disasters.
"Superstorm Sandy—while devastating to the New York City Metropolitan Area two years ago—provided us with an opportunity to not just rebuild what was lost, but to fortify locations for preventing storm damage in the future," said Gil C. Quiniones, President and Chief Executive Officer, New York Power Authority. "Through the Build Smart NY program, the Power Authority has worked with the New York City Health and Hospitals Corp. to significantly reduce the energy costs at Coney Island Hospital while also hardening the facility against future storms."
"Working toward a better and stronger State means applying lessons learned from Superstorm Sandy and other recent storms," said Jamie Rubin, Executive Director of the Governor's Office of Storm Recovery. "Especially during times of emergency, it is critically important for New York's hospitals to maintain fully operational and adequately respond to the urgent needs of the community. Through the implementation of these new resiliency measures, Coney Island Hospital will be able to better withstand the impacts of future storms, and concentrate fully on delivering outstanding medical treatment and patient care."
"What began as an efficiency project to reduce energy costs and air pollution has been enhanced to include important measures to protect Coney Island Hospital," said Health and Hospitals Corporation President Dr. Ram Raju. "We are taking tremendous steps to make the hospital safe from future storms, a need that just last week was recognized by the federal government with an allocation for storm preparedness from FEMA. I thank Governor Cuomo and NYPA for their foresight, flexibility, and willingness to augment the project as events warranted."
"The energy efficient upgrade to Coney Island Hospital provided by Governor Cuomo's Build Smart NY program not only reduced the hospital's energy requirements and carbon footprint, it also created a more comfortable environment for our patients and staff, " said Arthur Wagner, Senior Vice President, Southern Brooklyn and Staten Island Healthcare Network, HHC, and Executive Director of Coney Island Hospital.
"Since Sandy devastated the communities that we serve two years ago, we have provided economic development grants to more than 20,000 local customers and businesses to help them rebuild their energy systems in a more sustainable and resilient manner, while retaining 10,000 jobs in our communities," said Ken Daly, National Grid President, New York. "Through National Grid's energy efficiency program, Coney Island Hospital has received more than $300,000 of incentive funding for several projects, including converting to natural gas, upgrading their heating equipment and replacing windows. These energy-saving measures will reduce the hospital energy consumption and costs, make our local communities cleaner and healthier, and support Governor Cuomo's Build Smart NY Initiative."
The New York Power Authority spearheads energy efficiency improvements for public facilities throughout the State, including hospitals, schools and municipal buildings. NYPA provides upfront financing to projects and recovers the costs by receiving some of the savings of the public facilities' energy bills.
Governor Cuomo created the Build Smart NY initiative in 2012, calling for a 20 percent increase in energy efficiency in state government buildings by the year 2020. The statewide initiative will save millions of taxpayer dollars and create thousands of jobs while significantly reducing greenhouse gas emissions. Since the program's implementation, New Yorkers have saved tens of millions of dollars in utility costs.
Brooklyn Borough President Eric L. Adams said, "The prognosis for Coney Island Hospital's future has never looked better, aided greatly by the efforts of Governor Cuomo and the New York Power Authority to advance energy efficiency and storm resiliency at the facility. Quality healthcare is critical for our communities, and this funding will ensure that Coney Island Hospital can continue to deliver quality services to southern Brooklyn, regardless of what Mother Nature throws our way. I will continue to work with these leaders to tackle the health and wellness challenges facing our borough."
State Senator Diane Savino said, "I want to thank the Governor for his continued leadership on Sandy recovery issues. On behalf of the residents of my district, we appreciate the efforts to protect Coney Island Hospital and the added benefit of energy savings in the future."
Assemblyman Steven Cymbrowitz said, "One of the lessons we learned from Sandy was the need to prevent Coney Island Hospital and other medical centers from crippling and expensive damage should another big storm strike our area. The completion of these storm resiliency measures and energy upgrades will not only ensure that residents have access to their local emergency care facility when they need it most, but will have the important added benefit of protecting our environment and reducing energy costs for Coney Island Hospital."