News
FOR IMMEDIATE RELEASE
October 31, 2014
Bellevue Hospital Center Celebrates 40th Anniversary of WIC Program
Former participants share personal inspiring stories; current participants enjoy exercise and cooking classes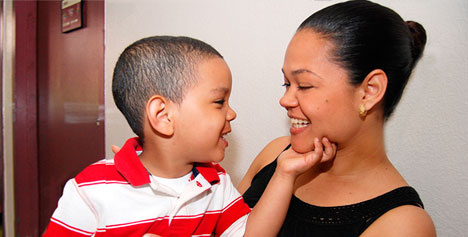 (New York, NY) - Bellevue Hospital Center, part of the New York City Health and Hospitals Corporation (HHC), recently celebrated the 40th anniversary of the WIC (Women, Infants and Children) program.
Since 1974, the WIC Program has been providing vital assistance and nutritious foods for low income pregnant, postpartum and breastfeeding women, infants and children five and under. At Bellevue Hospital Center, the program started in 1975, and today provides nearly 1,000 women and 2,500 infants and children a month with benefits.
Paola Arroyo knows firsthand the importance of WIC. Sixteen years ago she was a 16-year-old high school student when, confused and scared that she would be ostracized for being a teen mom, she found herself at Bellevue Hospital Center's WIC program. WIC counselors and educators welcomed Arroyo with open arms, giving her comfort and sound advice. The caring staff of educators and counselors also taught Arroyo proper nutrition for her and her unborn daughter and offered her advice on breastfeeding and healthy eating.
Her three daughters—16-year-old Celine, 11-year-old Kaitlin and 9-year-old Michelle, all received WIC benefits when they were younger. While she was raising them, she was earned an associate's degree in nursing (ADN) and became a peer educator for WIC, teaching other possibly scared moms about the benefits of breastfeeding and healthy eating. But today she's a role model to her girls in many ways—she applied for and earned a job as a Public Health Advisor for WIC and she splits her time at Bellevue and also the Sunnyside WIC clinic in Queens. Arroyo said, "Every day I am happy to come to work. This is where I belong now and that's why I'm here and every day I come to work happy because I like what I'm doing and that's what's most important."
The Program has grown exponentially in four decades—in size and scope, in number of locations and in the amount of people served. Many women and young children who got a head start in healthy eating are now thriving, in part, due to WIC services. WIC provides breastfeeding advice, nutrition education, healthy foods and other integral programs and services.
"We are so proud to have the WIC program housed at Bellevue for all of these years. The connection between healthy eating and healthcare is a vital one. According to a 2004 study, children who participate in WIC are more likely to be immunized. Offering vaccinations, as well as medical care for growing infants and children right here at Bellevue keeps that connection, and our kids strong," said Steven R. Alexander, Bellevue Hospital Center Executive Director.
"Nutrition education, healthy foods, breastfeeding support and health care referrals are the four pillars upon which WIC operates," said Alma Lou Brandiss, Senior Director of the Eastside WIC Program. "The program seeks to reduce obesity, improve food security, promote positive birth outcomes, increase breastfeeding rates and reduce health disparities and the risk for chronic disease in the target population."
At a celebration ceremony on October 24, 2014, along with the speaker presentations, about 50 pregnant and postpartum women partook in a yoga class and cooking demonstration highlighting healthy eating. Some two dozen young children (ages 1-5) took part in a Fit WIC exercise class, which included parachute toss and stretching activities, got their faces painted and enjoyed other crafts and activities as Bellevue Hospital Center celebrated this milestone anniversary.
To sum it all up, Arroyo simply said, "WIC has opened many doors in my life."