News
FOR IMMEDIATE RELEASE
September 9, 2014
HHC 9/11 Health Center Continues to Meet Medical and Mental Health Needs of Residents, Students, Workers and Volunteers Affected by WTC Disaster
More Than 1,000 New Patients Received Care During Last Year. 9/11 Health Experts See Persistent Mental Health Issues.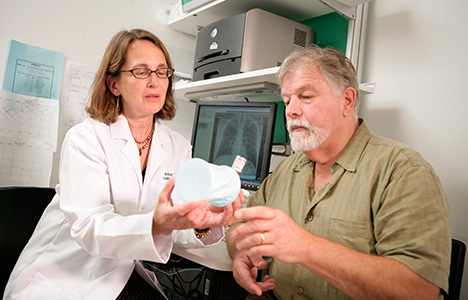 New York, NY --  As the 13th anniversary of the World Trade Center attack approaches, the New York City Health and Hospitals Corporation (HHC) reminds New Yorkers of the medical and mental health services available to adults, children and adolescents who may still be suffering from 9/11-related health conditions. The HHC World Trade Center Environmental Health Center, with locations in Queens and Manhattan, is the only WTC Center of Excellence in New York City dedicated to treating children and members of the community who were not first responders and emergency workers.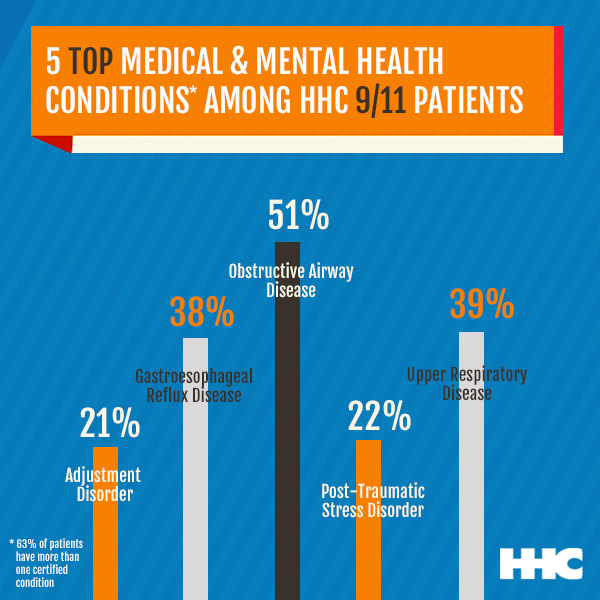 Nowadays the center continues to receive new patients whose medical and mental health needs are associated to their exposure to the WTC disaster.  From August 2013 to August 2014, an additional 1,164 patients enrolled in the HHC program, bringing the total number to 7,735.  9/11 health experts are also seeing a persistent need for mental health services. Approximately 40 percent of the patients in the HHC program indicate the need for mental health intervention, and over 60 percent show symptoms for Post-Traumatic Stress Disorder (PTSD), anxiety or depression.
"Without appropriate intervention, the passage of time can exacerbate mental health conditions in WTC patients, and so can local and world events that stir up memories of 9/11," says Nomi Levy-Carrick, MD, Mental Health Director of the HHC WTC Environmental Health Center.  "Over time, mental health issues can cause people to lose their personal support systems, including friends and family, or even their jobs. The overwhelming experience of loss of control during a trauma can cast a long shadow over many aspects of decision-making and relationships with others.  When that support system erodes, symptoms can worsen."
"Current events can affect patients as well," Dr. Levy-Carrick added.  "For those who live near the WTC site, the constant new construction can trigger negative memories.  For them and others, world events like the disappearance of the Malaysian Airlines plane, or terrorist attacks in the Middle East, can intensify anxiety and depression.  It's not too late for people who were affected to get treatment for their mental health issues related to 9/11."
The HHC WTC patients are local residents, students, workers, passersby and those who helped in the cleanup. The Center has locations at Bellevue Hospital on the East Side of Manhattan, Elmhurst Hospital in Queens and Gouverneur Health  in Lower Manhattan, and works in partnership with community and labor organizations and residents affected by 9/11.
You may be eligible for treatment if:
You lived, worked, or went to school or day care in the area of Manhattan that is south of Houston Street or in northwest areas of Brooklyn, which are considered the disaster area.
You were exposed to the dust cloud on 9/11, or to dust or smoke in the disaster area after 9/11.
You worked as a cleanup worker or performed maintenance work in the disaster area between September 11, 2001 and January 10, 2002.
In addition to mental health conditions, common 9/11 symptoms include: Shortness of breath, cough, wheezing; chest tightness; nasal and sinus congestion; and gastroesophageal reflux disease (GERD).  In addition, the federal government has added more than 20 categories of cancer to the list of 9/11-related conditions, expanding the healthcare available to many first responders, workers, volunteers, students, visitors, and residents of Lower Manhattan who may be suffering from the disease.
The WTC Environmental Health Center is funded under the James Zadroga 9/11 Health and Compensation Act. Patients can get treatment regardless of their insurance status, immigration status or ability to pay. The WTC Health Center is also funded for research projects to investigate causes of continued lower respiratory symptoms in adults, to study potential health effects in adolescents who had childhood WTC exposure, and to continue its collaboration with the NYC Department of Health and Mental Hygiene for a respiratory study over time of people in the WTC Registry.
There are no out-of-pocket costs to patients for treatment and medications related to 9/11 illnesses.  To determine eligibility and to enroll in the program, call 1-888-WTC-HP4U (1-888-982-4748) or visit www.cdc.gov/wtc.