News
FOR IMMEDIATE RELEASE
July 18, 2014
HHC Elmhurst Hospital's New "Summer Sports Clinic" Puts Focus on Childhood Obesity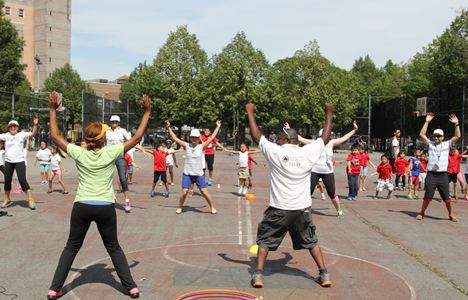 Elmhurst, NY – Elmhurst Hospital Center, part of the New York City Health and Hospitals Corporation (HHC), in conjunction with the New York City Department of Parks & Recreation, today hosted its first "Summer Sports Clinic" to encourage children in the community to stay active and focused on their health, and to highlight the dangers of childhood obesity.
The Clinic took place at the Frank D. O'Connor Playground, across the street from Elmhurst Hospital on Broadway between 78th and 79th Streets in Queens. Doctors and residents from the hospital's Department of Pediatrics, along with sports coaches and instructors from NYC Parks, were on-site playing with and instructing children ages 5-14 in basketball, soccer and volleyball.
"By teaching our youngest New Yorkers to live healthy, active lifestyles, we leave a lasting legacy of well-being and we make an investment in the future health of our state. A healthy community is a vibrant community," said Assembly Member Francisco Moya who sponsored the program and providing giveaways for the children. "I am honored to be partnering with Elmhurst Hospital Center and the NYC Department of Parks and Recreation to sponsor this year's Summer Sports Clinic. It'll be a day of fitness and fun for our Queens kids."
"Playing in an organized sport is an important experience for children, where they can feel like part of a team and concurrently receive formal instruction," said Dr. David Rhee, Residency Program Director at Elmhurst's Department of Pediatrics. "As someone who grew up playing in Frank D. O'Connor Park, I am excited that our doctors have a chance to participate in fun activities along with the children – outside of the sometimes intimidating setting of a hospital."
"I am pleased to have the new Summer Sports Clinic as part of NYC Parks' ongoing efforts to create a healthier, fitter New York City. The borough of Queens is home to ten recreation centers that host regular fitness programming and a variety of athletic amenities including pools, basketball courts, weight rooms, and much more," said Queens Parks Commissioner Dorothy Lewandowski. "Thank you to our partners at Elmhurst Hospital for supporting our commitment to young Queens residents, and to a healthier community."
According to the Centers for Disease Control and Prevention, childhood and adolescent obesity has increased severely in the past 30 years. Childhood obesity often introduces serious adverse health effects, such as pre-diabetes, higher risk factors for cardiovascular disease, increased cholesterol levels and high blood pressure in children. Some of New York City's highest rates of obesity can be found in the neighborhoods of East Elmhurst, Jackson Heights, and Corona in Queens, all near or adjacent to Elmhurst Hospital.
"This is an excellent opportunity for children to stay active while reducing risk factors that stems from being overweight and obese – which can often lead to major health complications," said Dr. Randi Wasserman, Director of Pediatrics at Elmhurst Hospital.