News
FOR IMMEDIATE RELEASE
January 3, 2013
HHC's Diabetes Telehealth Program Helps Patients Significantly Lower Their Blood Glucose Levels, Reduces Health Care Costs
NYC public hospital program featured in article in "Journal of Managed Care Medicine"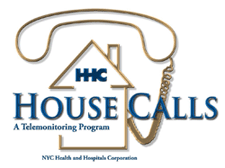 New York, NY ― The New York City Health and Hospitals Corporation's (HHC) House Calls Telehealth Program - created to help patients manage their diabetes - lowered patients' A1C blood glucose levels by a significant 1.8 points, according to a recent study published in the Journal of Managed Care Medicine.
Through the integrated use of telehealth equipment, access to electronic medical records, electronic communication with providers and direct communication with patients, nurse care managers were able to significantly improve patient clinical outcomes and potentially reduce health care costs for this patient population, the study says. Patients who were members of MetroPlus – HHC's health plan – and had sub-optimally controlled diabetes with A1C levels of 7 or more were encouraged to enroll in the House Calls Telehealth Program. HHC initiated the telehealth program in 2006.
"HHC and MetroPlus are at the forefront of leveraging technology and care management to improve access, quality and outcomes for patients with chronic diseases," said Susan Lehrer, RN, BSN, CDE, director of HHC's House Calls Telehealth Program and one of the authors of the article, entitled "Telehealth Program for Medicaid Patients with Type 2 Diabetes Lowers Hemoglobin A1c." "This comprehensive study clearly demonstrates that remote monitoring can dramatically facilitate care management and lead to improved patient outcomes for diabetes across the care continuum. It also provides insights that can help address the clinical and economic challenges of treating other chronic conditions, which account for the majority of healthcare costs in the U.S."
"Type 2 diabetes accounts for 90 to 95 percent of all diabetes cases," said Kelly D. Stamp, PhD, ANP-C, assistant professor at Boston College's William F. Connell School of Nursing and lead author of the study. "This research provides healthcare providers with meaningful insights about how to deliver cost-effective telehealth programs that promote positive behavior changes that improve the health and quality of life for the growing population of patients with Type 2 diabetes while reducing overall costs."
The A1C test is an indicator of the adequacy of blood sugar control, with levels greater than 7% correlating with increasing complications from diabetes. Researchers analyzed two years of data from 330 patients who had A1C levels of 7% or more. Patients were given a blood glucose monitor and those with hypertension also received a blood pressure monitor. The patients then used the AMC Health telemonitoring system to upload their readings to a secure website, which alerted HHC House Calls nurses when an intervention was needed.
Nurses contacted patients if their blood glucose and blood pressure values were greater than 20 percent above or below parameters established by a primary care physician. Nurses also called participants weekly to provide diabetes self-management education, support, coaching and reminders about the importance of regular physician visits and adhering to treatment plans. They also followed up when patients didn't communicate at expected times.
"These improvements may be sustainable because of cost savings related to preventable emergency room visits and hospital stays," according to the study. The House Calls program costs $330 a month and patients generally remain on the program one to two years. Medicare home health services cost approximately $41 a day over a typical 60 day episode of care. In comparison, skilled nursing facilities cost $358 a day and a hospital stay costs $1,805 a day, the study says.
"Health care reform has recognized that integrated care management will be an essential component of all initiatives to improve patient outcomes and reduce cost," Lehrer said.
"The House Calls program also works in tandem with HHC's Home Care Agency and is a wonderful discharge plan for patients who receive short term home care services to learn insulin administration and diabetic principles but continue to require reinforcement and coaching," said Ann Frisch, RN, BSN, MBA, Executive Director of Health & Home Care.
The study also found:
All patients enrolled in the study showed improved A1C levels. Those who successfully completed the program experienced a 2.2 percent drop, but even those who didn't complete the program benefited with a 1.4 percent drop.
Blood pressure was significantly reduced in patients who were hypertensive.
Patients continued self-care activities, including monitoring blood glucose and blood pressure.
Patients regularly took part in weekly diabetes self-management and problem-solving phone sessions.