Mammograms
Everyone knows a mammogram can save a life. So why are so many women still not getting one? Mammograms can diagnose breast cancer at an earlier stage when treatment is more effective and prognosis more hopeful. Ultimately, mammograms can help save lives and avoid a crisis before it happens. This May, HHC hospitals and health centers will host mammogram education events to urge women over 40 to schedule a mammogram this year. See our event schedule below, and don't forget to stop by!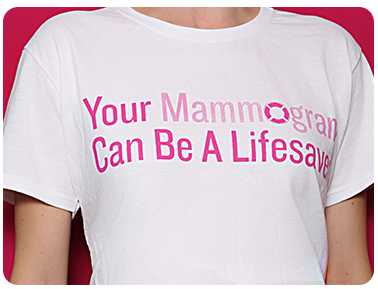 Enter Our Contest
Answer three simple quiz questions to check your breast cancer knowledge and be entered to win "Your Mammogram Can Be A Lifesaver" Ladies' T-shirt! Enter by May 21st.
Was a mammogram your lifesaver?
If a mammogram saved your life, share your story with us on Facebook or Twitter. We will repost your stories during the month of May to help other women learn about the importance of getting screened for breast cancer. Post stories and photos to our Facebook wall or use hashtag #HHCMammograms on Twitter.
Who knows, maybe your story might save someone else's life?
Schedule a mammogram
HHC public hospitals and health centers offer mammograms at little or no cost all year round. If you have no health insurance, we can help. Talk to your physician and make a mammogram appointment today.
Find a hospital or health center near you.
Find a mammogram education and screening event
Join our hospitals and health centers this May for a series of education and screening events. Visit an event and make a mammogram pledge on our Pink Ribbon wall, get free goodies, and more. All events will provide breast cancer education. Most events will book mammogram on-site appointments and some events will offer on-site mammogram screenings.
Use our search tool below or download our list to find your borough and specific details about our May events.
Share the lifesaving message
Facebook and Twitter to find out more about May breast cancer screening events and to share mammogram information with friends and family.
Download and print our flyer with a list of breast cancer screening locations at HHC hospitals and health centers. Hang it up in your cubicle or on office bulletin board to help spread the word.