Quit Smoking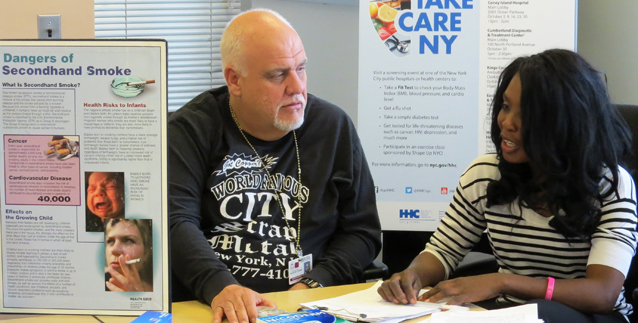 If you are interested in quitting smoking—for good—then we are here to help with our smoking cessation services. We want to support you as you pursue a healthier, smoking-free lifestyle. 
Quitting Smoking: Support in New York City
More than two-thirds of smokers say they want to quit, and every year, more than half try. However, without assistance, fewer than 10 percent are successful in the long-term. That's where we come in. Our QuitSmoking Clinics, located at our public hospitals, provide comprehensive treatment for the tens of thousands of New Yorkers who use tobacco. Quitting smoking is a good idea no matter how old you are or how long you've been smoking. People who quit smoking at any age reduce their risk of tobacco-related disease and prolong their lives.
How to Quit Smoking Effectively
Our QuitSmoking Clinics offer you a variety of ways to stop smoking. We understand that each person is different and requires a personalized treatment plan. We work with you to find the treatment that will be most effective for you. Treatment options include:
Drug therapy
Nicotine replacement therapy
Counseling services, customized to each individual
Case management to help you remain involved in your treatment
Get more information about smoking and your health from the NYC Dept. of Health and Mental Hygiene.
Contact Us
For more information about HHC QuitSmoking Clinics, call the HHC facility nearest you or call 311.