Mobile Medical Office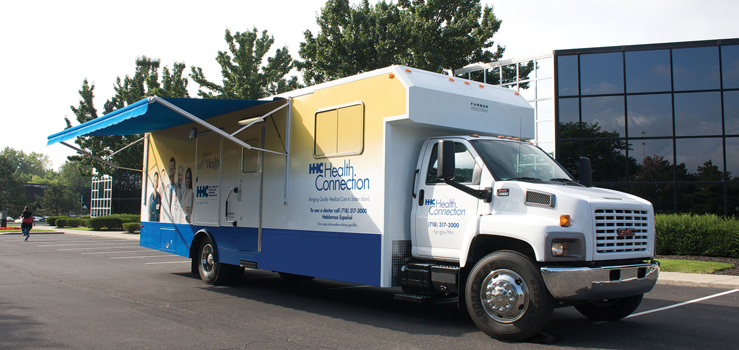 With New York City Health and Hospitals Corporation (HHC) Health Connection, our team of health experts brings care to our patients in Staten Island. Our Mobile Medical Office is like a doctor's office on wheels, complete with a reception area, exam rooms, diagnostic equipment and an expert team of doctors and nurses.
HHC: Mobile Medical Offices in Staten Island
If you are an adult living in Staten Island, our team of dedicated, experienced, multi-lingual health care professionals can provide you with basic medical care. Our Mobile Medical Office is a clean, comfortable care environment, with the same level of privacy, advanced technology and compassionate care patients have come to expect from HHC.
Our services are available one day a week in five different communities, from 10 a.m. – 4 p.m.
Monday: New Brighton - Project Hospitality located at 385 Jersey St.
Tuesday: Tottenville - St. Paul's Methodist Church located at 7558 Amboy Road
Wednesday: Midland Beach - Oasis Christian Center located at 574 Midland Ave.
Thursday: Concord - Doctor's Hospital located at 1034 Targee St.
Friday: Park Hill - Vanderbilt Moravian Church located at 285 Vanderbilt Ave.
HHC Mobile Medical Office: Services We Provide
When you visit our Mobile Medical Office, you receive care regardless of whether you are employed or have health insurance. If you have public insurance, there is no charge. If you have no insurance, speak to one of our bi-lingual financial counselors to see if you qualify for financial assistance.
If you are 18 years of age or older, come see us. We offer a variety of services to keep you healthy:
Adult primary care
Diagnostic tests
Electro-cardiology
Family planning
Health education
HIV counseling and testing
Substance abuse screening
Women's health services
If you are 50 years old or older, it is time to schedule a colonoscopy. If you have a family history of colon cancer, your doctor may recommend you have one earlier.
Contact Us
To learn more about services offered through our Mobile Medical Office or make an appointment, call (718) 266-6328.