HIV/AIDS Care
From physicians to support staff, the NYC public hospitals are home to nationally and internationally recognized HIV/AIDS specialists who have been on the front lines in the battle against this illness, providing compassionate care, testing, developing treatment plans and participating in important research. We offer HIV testing with results in 30 minutes, at little or no cost and affordable, specialized care to people with HIV, regardless of ability to pay or immigration status.
HIV/AIDS Services in New York City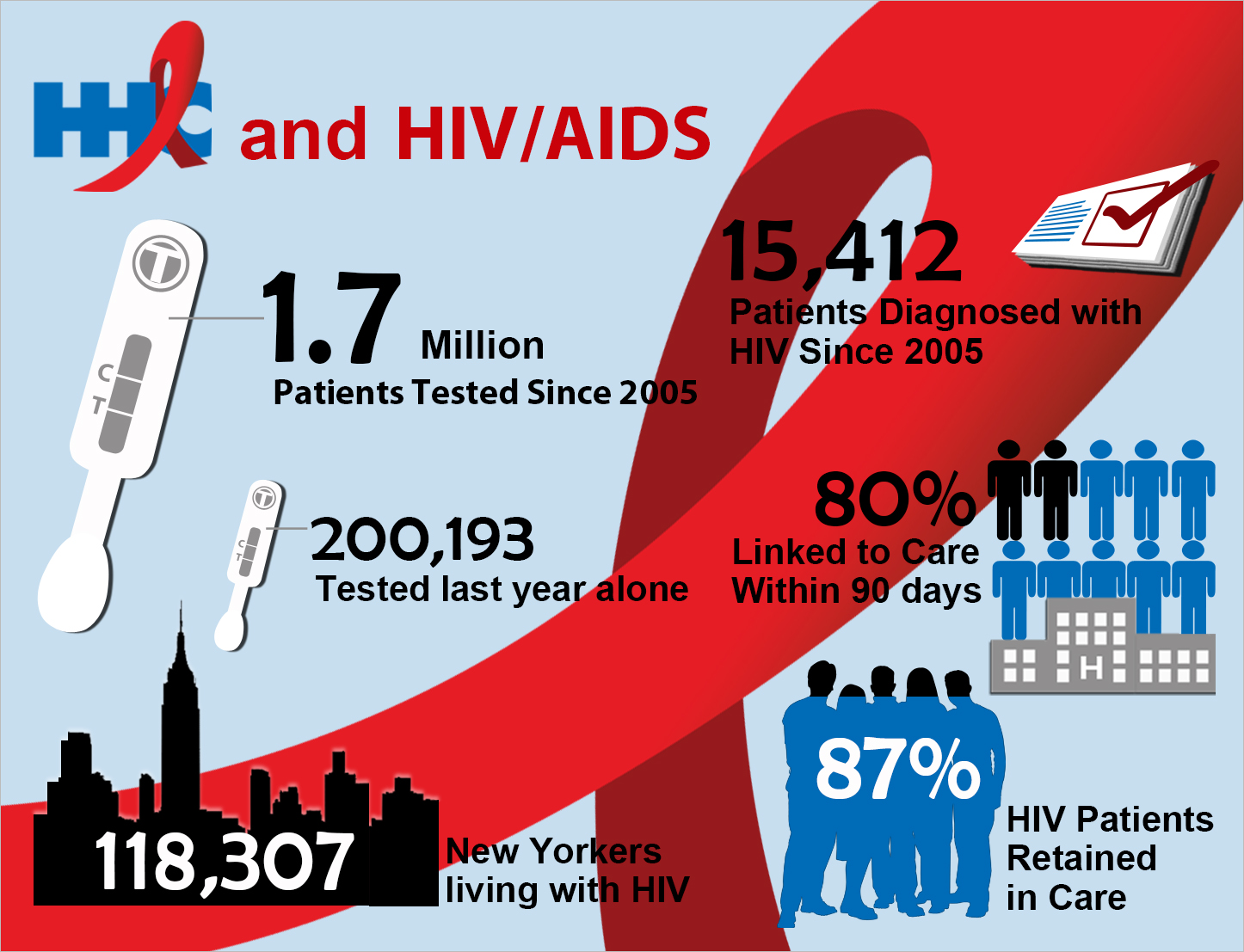 As the State's largest provider of HIV primary care, HHC's professional, discreet staff offers comprehensive HIV/AIDS care, including confidential, convenient HIV testing and personalized treatment and counseling. HHC healthcare facilities have a seamless system to immediately link people to continuous, team-based and coordinated quality care when they learn they are infected with HIV. People with an HIV diagnosis receive antiretroviral treatment and self-management health education to help them be healthier, live longer and prevent transmission.
All of our hospitals are state-designated AIDS Centers (DACs) with an HIV team who will get you the care you need, including:
Inpatient care
Outpatient care
Long-term or home care
Counseling and education
Testing
Medication management
HHC's health plan, MetroPlus, one of the top-ranked health plans in New York City for almost 10 years, has the state's largest HIV Special Needs Plan that provides comprehensive and targeted medical and support services to people facing HIV/AIDS. Learn more about MetroPlus.
Our pediatric and obstetrical departments also deliver specialized HIV care to infants, children and pregnant women. Learn more about HHC's pediatrics services and our obstetric and gynecologic services.
Confidential HIV Testing
Getting tested is about taking control of your health and your future. When you know your HIV status, you can take steps to protect your health and the health of your partners. Early detection of HIV can lead to medical care early to help you live a long, fulfilling and healthy life.
That's why HHC hospitals and health centers offer HIV testing as part of routine medical care in the emergency rooms, in-patient units, and outpatient clinics for patients 13 years of age and older. We offer Rapid HIV tests that are fast, easy, with results in less than 30 minutes.
Through April 2015, we have:
Tested 1.7 million patients for HIV.
Diagnosed 15,412 (less than 1 percent) as HIV positive.
Connected more than 80 percent of the patients we tested to life-saving medical care and treatment within 90 days of diagnosis.
Contact Us
Find an HHC healthcare facility near you, or an HIV test locations that provide rapid HIV tests.