Dental Care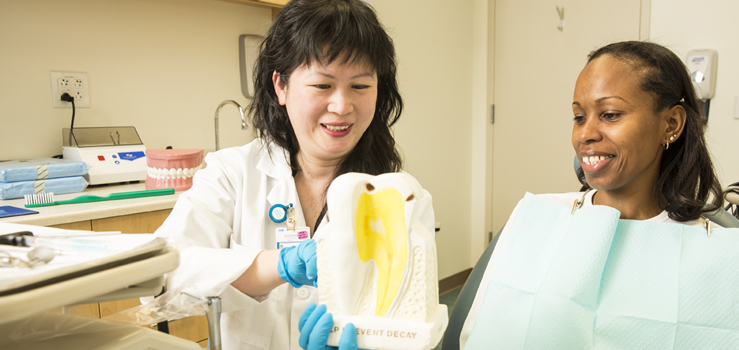 Healthy teeth and a healthy smile are important to your overall wellbeing. That's why at HHC, we provide full service dentistry programs for every member of your family, from prenatal dental care to dental emergency treatments.
Dental Care in New York City
Good dental health can prevent serious medical conditions, such as heart disease and diabetes. When you come to HHC for dental care, we provide all the care you need for a lifetime of healthy teeth and gums.
Our preventive services include:
Prenatal dental care
Regular exams for adults and children
Diagnostic x-rays
Cleaning
With years of experience caring for thousands of patients, our team uses only the best available techniques for treatment of common dental issues. We also provide expert care for treatment of complex dental issues. Our team includes specialists available 24 hours a day to handle emergency dental services.
Comprehensive Dental Services at HHC
From baby's first tooth to oral surgery and everything in between, our team provides everything your family needs for a healthy smile. We want you to take charge of your dental health. Our experts will provide you with information and tips on at-home care so you can avoid common dental issues.
Our restorative procedures include:
Baby bottle tooth decay prevention
Bridges
Fillings
Crowns
Dental care for HIV patients
Dentures
Extractions
Gum treatment
Implants
Oral surgery
Sealants
When appropriate, you will receive pain management remedies so that you can have a pleasant and comfortable experience.
Most of our hospitals also offer cosmetic procedures such as:
Laminates
Tooth whitening
Contact Us
We offer dental services at many of our locations throughout New York. Find an HHC hospital or health center near you.