Asthma Care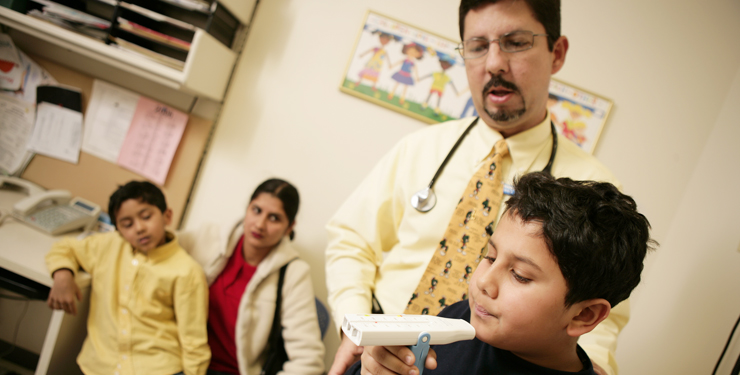 Asthma, an airway disease that causes coughing and wheezing, affects both children and adults. You can find excellent asthma care at HHC, where we are working aggressively to help New Yorkers manage the disease. One of our priorities is caring for children and adolescents with asthma, keeping them in school and out of the emergency room.
Asthma Care in New York City
Asthma is a chronic disease that makes it difficult to breathe, affecting your ability to exercise and be active. While it's more common in people under 40 years old, it may occur at any age. However, with proper treatment, you can continue to do the activities you love. If you have symptoms of asthma, or a family history of asthma, talk to an HHC doctor about treatment to manage and control your condition.
For quality, comprehensive asthma treatment and management, visit an HHC patient-centered medical home. Our teams will work with you to create a unique care plan that's right for you, and together, improve your health. Learn more about our Patient-Centered Medical Homes.
Asthma Care: Asthma Action Plans
At HHC, we are using the latest technology to battle this disease. Our healthcare teams develop asthma action plans, using electronic medical records to create what we call "contracts" for our patients. The contracts help our patients self-manage the disease and improve their symptoms. Results are promising, showing fewer asthma-related pediatric emergency room visits and fewer hospital admissions.
An asthma action plan includes detailed instruction about:
Using medication, including medicine to control asthma and medicine to provide fast relief
Using a peak flow meter, a portable device that measures how well your lungs are working, helping you keep your asthma under control
Ways to avoid asthma triggers
Contact Us
All HHC facilities offer treatment for asthma. Find an HHC healthcare center near you. You can find specialized asthma care for children at our Child Health Centers.