In November 2007, HHC Connectx mailed questionnaires to community providers (PCPs, specialists, community health centers, office managers) who were identified as the top referrers into HHC. The overall response rate of 9%. The survey included 14 questions, which covered issues related to timely access & communications, consult reports, and training opportunities/CMEs.
Physicians generally reported positive feedback from their patients regarding their experiences at HHC facilities; however, a sizeable minority (~20%) of patients expressed concern to their physicians over the lack of communication from hospital physicians regarding their treatment plan and follow-up.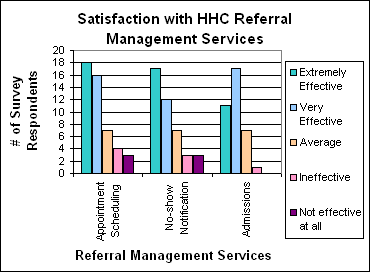 Although the majority of respondents indicated that they are satisfied with HHC's consult reports, the most common complaint among those who are not was that the consult reports are not returned at all or not in a timely manner. Respondents were generally satisfied with the overall access to HHC facilities. In addition, approximately 68% of community-based physicians surveyed recognized HHC's effective notification regarding no-shows as well as facilitation in admitting referred patients.
Generally, community-based Primary Care Physicians & Specialists who responded to the survey feel that our Referral Staff is both knowledgeable and courteous. Many of our community-based physicians (~75% of respondents) were unaware of the training/CME opportunities available at our facilities. However, of those who did attend our training sessions or participated in our sponsored-CMEs, 94% of them agreed that the sessions were valuable.
Our survey findings reveal new opportunities for HHC to enhance its service offerings and communications with community physicians, including:
Further streamline referral management process and train Referral Staff to ensure needs of referring community physician are met

Assess and improve support processes for consult report completion and return to ensure timely and accurate completion (Implementation of HHCAdvantage will facilitate return of consult report to referring physician)

Examine current communication process between hospital physician and patient to ensure that treatment plan information and follow-up is communicated clearly to patients prior to discharge from an HHC facility

Increase our marketing efforts for the HHC Connectx program as a whole but particularly surrounding CMEs and training sessions that are open to community physicians, in order to expand our network while maintaining high satisfaction levels among our physicians and staff
As HHC Connectx begins to rollout HHCAdvantage it is imperative that we continue to receive feed back from the physicians in the community in order to best serve all patients.