New York City's First Benchmarking Scores for Non-Residential Covered Properties
On September 4, 2012, New York City publicly posted the 2011 energy and water benchmarking results for non-residential properties covered under the benchmarking ordinance (Local Law 84). The list was updated on September 24th to account for discrepancies in building identification. Please make sure you are using the most up to date list. Also note that buildings were determined as non-residential by the New York City Department of Finance (DOF).
Press
New York Times, December 24, 2012
Next American City, September 13, 2012
Environmental Leader, September 12, 2012
FierceEnergy, September 12, 2012
Eco-Structure, September 11, 2012
Institute for Market Transformation, September 10, 2012
New York City's First Benchmarking Report for the Private Sector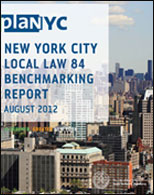 The New York City Local Law 84 Benchmarking Report (August 2012) is the first analysis of New York City benchmarking data collected as part of Local Law 84, which requires all privately-owned properties with individual buildings over 50,000 square feet or with multiple buildings with a combined square footage over 100,000 square feet to annually measure and report their energy and water use. 
Nearly 1.8 billion square feet of built space, which is equal to the built areas of Boston and San Francisco combined, was benchmarked in this effort. This constitutes the largest collection of benchmarking data gathered for a single jurisdiction and documents the current state of energy consumption and performance in large buildings in New York City. This data will also help identify opportunities to gain efficiencies. Similar reports will be produced on the benchmarking data compiled in each of the coming two years.

To read the report, download New York City Local Law 84 Benchmarking Report (August 2012) (in PDF)
Read the City's press release:
August 3, 2012 - Mayor Bloomberg Releases First Benchmarking Report on Energy Use in New York City's Largest Buildings 
Press
HABITAT, September 25,2012
Metropolis, August 24, 2012
C40 Cities Climate Leadership Group, August 16, 2012
International Business Times, August 8, 2012
Inhabitat, August 7, 2012
SustainableBusiness.com, August 7, 2012
Next American City, August 6, 2012
Environmental Leader, August 6, 2012
New York Times, August 3, 2012 
Urban Green Council, August 3, 2012   
Institute for Market Transformation, August 3, 2012  
Building Green, August 3, 2012
Environmental Building News, August 1, 2012