On Wednesday, July 21, Buildings Commissioner Robert LiMandri and Department of Cultural Affairs Commissioner Kate D. Levin announced that more than 700 professional artists and designers from 39 states across the country registered to participate in the urbancanvas Design Competition.
urbancanvas is an unique contest designed to use temporary protective structures throughout New York City as blank canvases on which to express creativity through public art. Of the 718 registrants, California, Pennsylvania, Massachusetts, New Jersey and New York State are the top five states represented, but other artists and designers - from Alabama to Minnesota to Utah - also have applied to compete in this one-of-a-kind competition.
A jury of world-renowned artists, designers and civic decision makers has been selected to evaluate submissions. The jury will recommend six to eight proposals to the Design Commission for review. Upon approval by the Design Commission, the finalists' designs will be featured on www.nyc.gov/urbancanvas for a public vote.

Learn more about urbancanvas.
NYC Energy Conservation Code
New Building and Alteration applications filed after July 1 must now comply with the NYC Energy Code.

The NYCECC amends Chapters 1 and 2 of the 2007 Energy Conservation Construction Code of New York State.
There are no changes to technical requirements (Chapters 3-10).
Immediately Hazardous Violations
If you receive an immediately hazardous (Class 1) ECB violation, you must immediately correct the violating condition and submit a Certificate of Correction to the Department.
Failure to correct the ECB violation will result in issuance of a DOB violation with a $1,500 civil penalty. The civil penalty is in addition to penalties assessed by the Environmental Control Board.

Learn more
Pipe Welder Qualification
Welding of gas and high pressure steam piping systems must be performed by welders qualified for all ranges and welding variables in accordance with Section IX of ASME Boiler and Pressure Vessel Code.
Pipe welders must submit proof of qualification from an Approved Agency to the Department prior to obtaining plumbing sign-off of the project.

Learn more about Qualification requirements
Service Updates
New Elevator Fees
On September 13, new elevator filing fees and civil
Elevator Batch Intake Form
The Department has created the Elevator Batch Intake
(EBI1) Form for applicants to use when processing 5 or more Category 1, 3, 5 reports or Affirmation of Correction forms.

Learn more
ELV3 and ELV3A Form
The Department has updated the ELV3 and ELV3A forms.
The updated versions of the forms are now available and must be used beginning August 30.

Learn more
Adult Establishments

Under 1 RCNY

9000-1

, the Department clarifies criteria
for determining the dates of establishment and discontinuance for adult establishments, houses of worship and schools.

Learn more
| | |
| --- | --- |
| | Cranes & Derricks Filing Window Hours Shortened |
On Friday, August 6, the Crane & Derricks filing window will close at 11am. Normal hours will resume Monday, August 9.
Keep reading Buildings News for new information and updates.
Department Events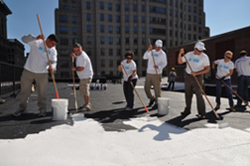 DOB Cools Headquarters
On June 30, Buildings Commissioner Robert LiMandri and the Department's Senior Staff coated the rooftop of the agency's headquarters in Lower Manhattan as part of NYC °CoolRoofs, an initiative to promote and facilitate the cooling of New York City's rooftops.
NYC °CoolRoofs is a collaboration between NYC Service, the NYC Department of Buildings and the Community Environmental Center to encourage building owners to cool their rooftops by applying a reflective white coating that reduces energy use, cooling costs and carbon emissions.