Commissioner's Column

Construction-related accidents dropped 28% in 2010, a significant decline that illustrates how government and industry working together can make this City stronger and safer than ever before.

With new regulations, more thorough inspections and greater communication between this agency and industry members, large and small, safe construction has continued throughout the City despite the economic downturn.

In the past year, the Department has

not only focused on facilitating safe development but also improving the quality of life for all New Yorkers.

From coordinating a competition to beautify construction sites with art to implementing a new Energy Conservation Code to distributing flyers warning about illegal conversions, we are constantly looking for ways to make this City a better, safer place to live, work and build.

This year, we will be examining ways to further streamline the construction process so industry members can submit more documents electronically and do business more efficiently -- without sacrificing safety.

Construction is critical to the growth of this great City, but public safety must be paramount.

In 2010, four workers lost their lives because they did not have proper fall protection on the job site. Together, we must work to ensure these accidents are prevented in the future.

Stay safe,

Robert LiMandri
Apply to be on a Code Revision Committee
The Department of Buildings is requesting applications from members of the construction, real estate, labor, architectural, and engineering community, and other interested stakeholders, to serve on technical committees that will help develop and review amendments to the New York City Construction Codes as part of the mandated three year code revision cycle. Applications will be accepted through February 4, 2011.

Learn more
Department Investigates Queens Fatal Accident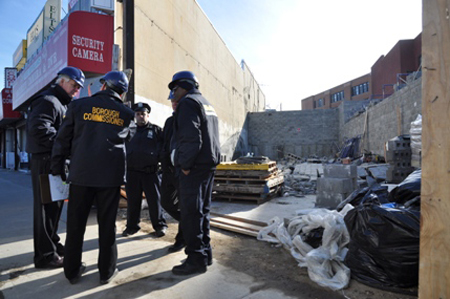 Department inspectors and engineers are investigating the cause of a fatal wall collapse that occurred at a 5-story building under construction at 84-18 Queens Boulevard in Elmhurst on January 10, 2011.
Public Hearings
| Fees Payable to the Department | January 19, 2011 |
| --- | --- |
The Department is proposing to add new fees payable to the Department. The hearing will be held at 10:00am in the 6th Floor Training Room at 280 Broadway in Manhattan.

Proposed Rule (PDF)
| Safety Code for Elevators & Escalators | January 26, 2011 |
| --- | --- |
The Department is proposing to amend the code for existing elevators and escalators. The hearing will be held at 11:30 am in the 3rd Floor Conference Room at 280 Broadway in Manhattan.

Proposed Rule (PDF)
| Mast-Climbing Work Platforms | January 31, 2011 |
| --- | --- |
The Department
is proposing to add a new section to the NYC Construction Codes on mast-climbing work platforms (mast climbers).

The hearing will be held at 2:00pm in the 6th Floor Training Room at 280 Broadway in Manhattan.

Proposed Rule (PDF)
Service Updates
Form Changes
The Department is making minor changes to the following
forms. Draft versions are now online.
Additionally, the Department is releasing the following new forms:
January 24: Fill-in versions available online. These forms will not be accepted until February 7.

February 7: Applicants must use new (01/11) versions.

Timeline for New Forms (PDF)


Description of Form Changes (PDF)
New PW5

The updated version (12/10) of the

PW5

is now online. The
12/10 versions must be used beginning February 1, 2011.
Holiday Closure
The Department will be closed Monday, January 17, 2011.
Keep reading Buildings News for new information and updates.
Buildings Bulletins
Sprinkler System Alterations
Buildings Bulletin
2010-029
(PDF) clarifies the requirements for existing automatic sprinkler systems alterations.
No-Hub Couplings
Buildings Bulletin 2010-030 (PDF) addresses the use of plastic no-hub couplings used in plumbing.
Energy Code Exemptions
Buildings Bulletin 2010-031 (PDF) and 2010-032 (PDF) clarify Energy Code exemptions for the types of work done on an HVAC system or lighting system.
Department Events
Greening Gotham:
The Rise of Energy-Efficient Buildings and the Road Ahead
On Tuesday, January 25, Buildings Commissioner Robert LiMandri will speak at NYU's Wagner School of Public Service about City initiatives to make buildings in NYC greener and why buildings need to be a major focus of NYC's efforts to "go green."
Commissioner LiMandri will also discuss what other cities around the world are doing with regards to encouraging energy-efficient buildings.
Event details:
Tuesday, January 25, 2011
5:30pm - 7:00pm
The Puck Building
Rudin Family Forum for Civic Dialogue
2nd Floor
295 Lafayette Street
Manhattan, NY
No RSVP required.