Information about the Challenge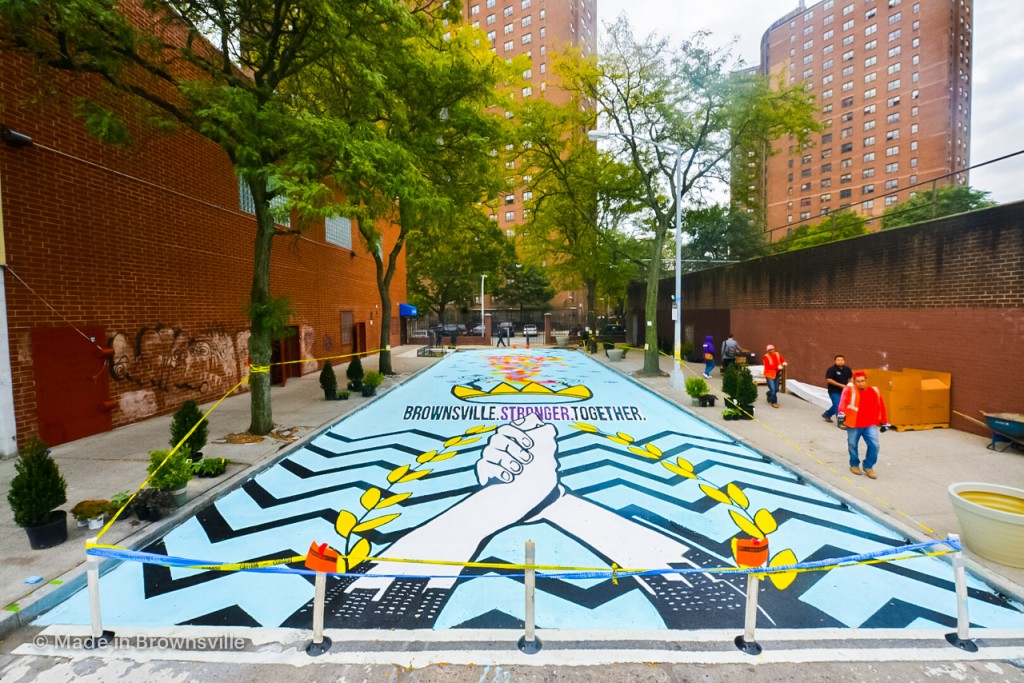 Osborn Plaza test site. Image Credit:
Made in Brownsville
Pilot Site

The Belmont Ave Business Corridor, a four-block commercial strip in Brownsville, Brooklyn, is the focus area and designated site for testing solutions that aim to enhance the nighttime experience of neighborhood corridors and public spaces. Click here to take a look at the corridor.
The extended site for testing includes Rockaway Ave, between Pitkin Avenue and the Livonia Ave transit connection, including the area under the elevated train near the station. Many social enterprises are located along the corridor and are partners in the initiative. These are shown on the map below:
Osborn Plaza
This public pedestrian plaza is the civic heart of Belmont Ave. Sponsored by the Brownsville Community Justice Center, Osborn Plaza hosts a variety of community programs year-round. Brownsville Community Justice Center is responsible for maintaining and programming the plaza as the official DOT Plaza partner.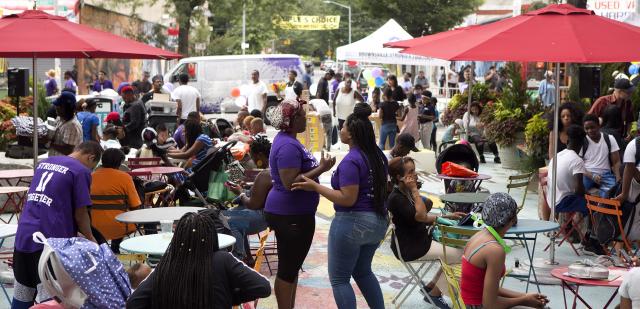 Installation of Tech Solutions at Osborn Plaza, Belmont Avenue, and Rockaway Avenue
We encourage participants to think creatively about how they might add functions to existing spaces or infrastructure or what they might propose that isn't currently in use. Participants may consider a variety of approaches that will most effectively support their solution, and propose the infrastructure necessary to enable it.
Plazas, Sidewalks, and Street Furniture
Selected team(s) may make temporary use of the following spaces and existing City assets in the designated corridor, subject to applicable permits, policies, and regulations:
Osborn Plaza, at Osborn St and Belmont Ave
Sidewalks in the designated corridor
Other assets such as benches and light poles as permitted
Privately-owned buildings on the designated corridor
Select buildings along the designated corridor can be proposed for temporary installations. The social enterprises that are partners to the initiative can provide introductions to various property owners.

49 Belmont Ave, operated by Made in Brownsville
3 Belmont Ave, operated by 3 Black Cats + Dream Big Innovation Center
519 Rockaway Ave, operated by Brownsville Partnership
650 Rockaway Ave, operated by Brownsville Community Justice Center
About physical installations
Installations will be temporary (4-12 months, as determined by the DOT and MOCJ, in consultation with the solution provider);
Installations must follow basic siting guidelines as determined by relevant agencies or private property owners;
Solution providers will be required to enter into into a demonstration agreement with the City, as well as with any relevant agencies or private property owners for access to infrastructure. The project team will assist with coordinating agreements, but the responsibility will be on the provider to submit complete documentation, such as certificates of liability insurance, in the required timeframe.
Availability of digital kiosks
Participants may consider proposing solutions that can be activated with equipment that is being made available for this challenge:
In the application, please detail how your team would propose to deploy this hardware if you choose to use it.
Funding Available
Selected teams will be eligible for up to $20,000 in funding. We anticipate funding several teams for this challenge. A preliminary outline of funding needs must be detailed in the application. Funds can be used for equipment purchase and installation, as well as expenses related to insurance, maintenance, user testing, and evaluation.
Evaluation Criteria
At the end of the testing period, successful solutions will have achieved one or more of the following:
Increased number of pedestrians navigating the designated corridor during evening hours
Increased usage of public gathering spaces along the designated corridor during evening hours
Increased perception of safety along the designated corridor during evening hours
Reduction in pedestrian injuries from pedestrian/vehicle and pedestrian/cyclist crashes during the evening hours
When you propose your solution to us, we'll evaluate it based on the following criteria. You may submit past pilots, studies, or evaluations to demonstrate effectiveness.
Ability to increase the number of pedestrians using a space and/or usage of communal spaces during evening hours
Ability to increase the perception of safety during evening hours
Ability to reduce pedestrian injuries from pedestrian/vehicle and pedestrian/cyclist crashes during the evening hours
Readiness of technology
Ease of implementation
Cost efficiency
Ability to generate opportunities in the neighborhood
Involvement of community members in the design, implementation, operation, and evaluation of the solution
Additionally, solutions should:
Be scalable, demonstrate usability for multiple sites, and have a cost model that leverages economies of scale
Be minimally invasive and have long life spans with low operation, maintenance, and installation requirements
Consider easy and lightweight approaches to deployment, such as those that are energy-independent and connectivity-independent
Consider how the experience can be accessible to all users, including those without smartphones or data plans
Solutions must also follow the NYC IoT Guidelines.
We are in the process of working with community partners, our City agency partners, and NYU CUSP to establish a quantitative baseline of the test site. We will evaluate the tests against this baseline. We will work with selected technology providers to develop success metrics tailored to individual solutions.
Evaluation Committee
Our lead City agency partners will identify the proposals that will be piloted. These partners include:
Ifeoma Ebo, MOCJ, Senior Design Advisor
Neil Gagliardi, DOT, Director of Urban Design
Emily Weidenhof, DOT, Director of Public Spaces
Miguel Gamiño, MOCTO, NYC CTO
Kate Daly, NYCEDC, Senior VP, Center for Urban Innovation
Constantine Kontokosta, NYU Center for Urban Science & Progress, Assistant Professor of Urban Informatics
They will be advised by subject matter experts from the DOT, Department of City Planning, Public Design Commission, MOCTO, NYU CUSP, NYCEDC, and NYCHA and by the Brownsville Tech Board.
Succeeding in Brownsville / Best Practices
Successful solutions will be responsive to the following principles, drafted in collaboration with Brownsville Tech Board, who will advise in the selection of proposals.
Empowering: Successful solutions should create and support opportunity and equity in Brownsville
Responsive: Successful solutions should be useful, respond continuously to the needs of the community, and generate significant impact
Accessible: Successful solutions should serve, be inclusive of, and be usable by all members of the community
Transparent: Successful solutions should make their products, processes, outcomes, partners, and participants clear and transparent
Responsible: Successful solutions should be safe and well-maintained
Sustainable: Successful solutions should be environmentally sustainable and support NYC's Zero Waste and 80x50 missions. They should have a clearly-defined plan for growth, scale, and mechanisms for support
Compliant: Successful solutions should follow NYC IoT Guidelines (on privacy, transparency, infrastructure, data management, security, operations, and sustainability) and all applicable NYC rules and regulations.
Apply