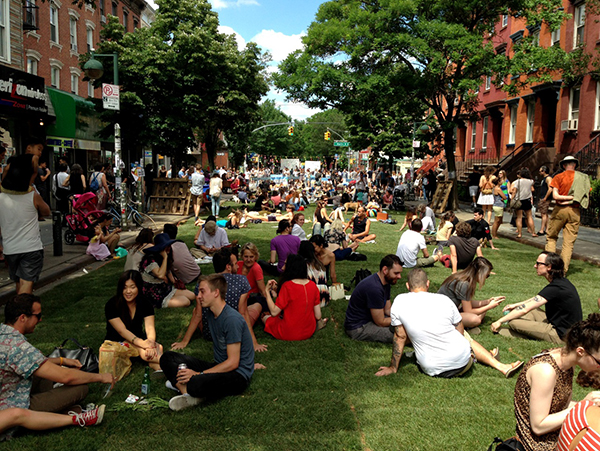 Each year, the New York City Department of Transportation partners with community groups to present Weekend Walks – multi-block neighborhood events on commercial streets temporarily closed to vehicles and opened to walking and other activities. These events take place year round in all five boroughs.
Business improvement districts, cultural organizations, Local merchants' associations and community groups host Weekend Walks as a fun way to highlight local businesses, and neighborhood resources. They create wonderful opportunities for New Yorkers to gather, see their neighborhoods in a new way, and rediscover their community.
In 2016, NYCDOT is partnering with community based organizations to offer the eighth season of Weekend Walks. Partner organizations will host over 106 days of car free events opening approximately 26 miles of city streets from April Through October. Weekend Walks highlight local cultural institutions, non-profits, and community resources. The events promote healthy, safe recreation as well as local businesses, and create high-quality public space.
To find a Weekend Walk near you visit: Weekend Walk
If you are interested in organizing a Weekend Walk in 2017 or for more information, please email weekendwalks@dot.nyc.gov.