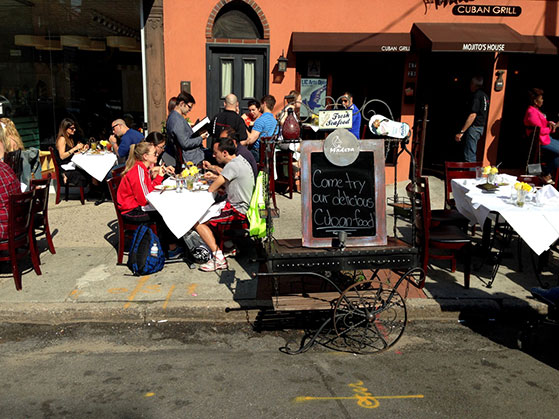 In 2014, DOT partnered with local community groups and merchants to offer the sixth season of Weekend Walks to enhance the public realm in commercial districts citywide. Thirty-two Weekend Walks sites in all five boroughs held events from May through October. Each Weekend Walk is organized and hosted by a local partner, and features a number of activities, including music, arts and crafts, classes, and youth programming. Weekend Walks highlight local cultural institutions, non-profits, and economic resources. The events promote healthy, safe recreation as well as local businesses, and create high-quality public space where community members can come together.
Weekend Walks is a major component of NYC DOT's World Class Streets (pdf) initiative, which seeks to develop and care for the public realm – the space between buildings. For many of us, the streets are literally our front yards.
Restaurants abutting Weekend Walks are allowed to offer outdoor café service, without any additional permits or fees, in zones demarcated with barriers. Restaurants can expand to the curbline in front of their establishments. Café furniture must not be placed on the sidewalk until the beginning of the set-up time listed on the SAPO permit, and must be removed by the time the road is re-opened to motor-vehicle traffic.
Restaurants with two-year DCA café licenses must remove all additional chairs/tables and return to the boundaries listed in their DCA licenses when the street is reopened to motor-vehicle traffic. Restaurants with valid SLA liquor licenses that do not include outdoor seating can offer liquor in their Weekend Walks-only café spaces without modifications to their licenses.
2014 Community Partners:
Borough Park Jewish Community Council
Bronx Museum of the Arts
The Brooklyn Alliance
Castleton Collective
Davidson Community Center
Flatbush Development Corporation
Flatbush Nostrand Junction BID
Harlem One Stop
Merchants of Third Avenue
Myrtle Avenue BID
Park Slope Civic Council
Pelham Bay Merchants Association
Triskelion Arts
Westchester Square BID