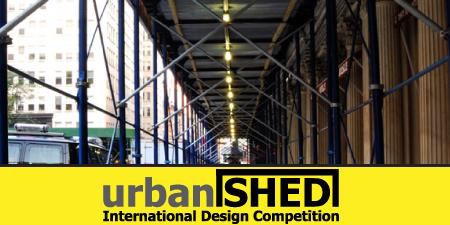 On December 17, the three finalists in the urbanSHED International Design Competition presented their revised designs to the competition jury. The jurors include NYC City Planning Commissioner Amanda Burden, FAICP; NYC Transportation Commissioner Janette Sadik-Khan; David Childs, FAIA; Craig Dykers, AIA; Jean Oei; Craig Schwitter, PE; Frank Sciame; Ada Tolla; as well as NYC Buildings Commissioner Robert LiMandri.
As part of the presentations, the finalists discussed how their designs had been further developed with the assistance of engineers and the suggestions of the technical advisory group, comprised of leading industry experts. From December 18, 2009 through January 2010, the final designs will be on display in the Helfand Gallery at the Center for Architecture, located at 536 LaGuardia Place in Manhattan. The winning design will be announced in the new year. View photos from the event.
Listen to a podcast with Commissioners LiMandri, Burden and Sadik-Khan discussing the significance of the competition.
Asbestos Abatement Legislation
Following the tragic Deutsche Bank fire in August 2007, the City developed thirty-three recommendations to enhance the oversight and safety of construction, demolition and abatement sites.

Over the past year, the City Council and Mayor Bloomberg have
passed more than 10 laws to implement these recommendations and make construction, demolition and abatement operations safer, including
prohibiting smoking
at abatement sites and
requiring the uniform color-coding
of standpipes and sprinklers.
On December 7, Mayor Michael R. Bloomberg signed legislation regulating simultaneous demolition and asbestos abatement activities within the same building.
Filing for Asbestos Abatement Work
The Department of Environmental Protection's A-TRU unit is now responsible for reviewing and permitting asbestos abatement projects.

Currently, DOB only accepts the asbestos abatement form (ACP7) for projects involving less than 1,000 square or linear feet of asbestos containing material on any floor.
| | |
| --- | --- |
| | The Department has created the following documents to assist applicants with concrete testing requirements and the revised TR2 and TR3 forms. |
Service Updates
Elevator Inspections
The Department has extended the deadline to submit
inspection reports for the 2009 annual elevator inspection cycle (category 1 inspection) until April 30, 2010. Owners must request an extension from the Department.
General Liability Insurance
The Department only accepts the ACORD 25 Certificate of
Liability Insurance with revision date 2009/01.
Boiler First Tests
Beginning January 1, 2010, new guidelines will be in effect
for re-scheduling boiler first test appointments.
PW1 Form
Beginning January 1, 2010, only the 10/09 version of
the PW1 form will be accepted.
Cast-In-Place Concrete
The Department issued Buildings Bulletin 2009-026
which clarifies special inspection and field and laboratory testing of cast-in-place concrete.
Holiday Closure
The Department will be closed on Christmas Day, Friday,
December 25, and New Year's Day, Friday, January 1.
Keep reading Buildings News for new information and updates.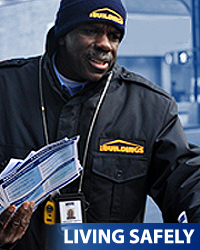 | | | |
| --- | --- | --- |
| | In November, DOB launched the Living Safely Campaign to educate New Yorkers on the dangers of illegal conversions. | |
Here's a look at the campaign:
| | |
| --- | --- |
| 3 | weeks |
| 5 | boroughs |
| 11 | languages |
| 25 | distribution sites |
| 104 | Department volunteers |
| 64,500 | flyers |