Citywide Campaign on Dangers of Illegal Conversions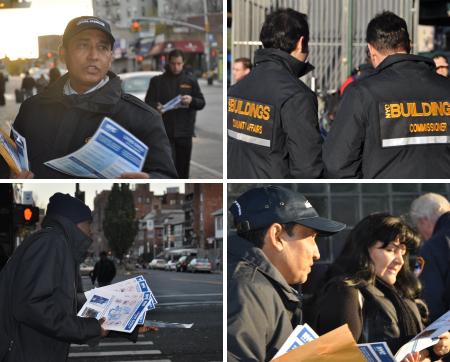 On Monday, November 16, the Department launched a three-week citywide campaign to advise New Yorkers about the dangers of illegal conversions. Inspectors and volunteers are teaming up with the Fire Department to distribute more than 60,000 flyers in all five boroughs, educating residents about specific risks of living in an illegal conversion and how to recognize the warning signs of unsafe living conditions. Flyers are being given out twice a day, in the early morning and early evening, at bus stops and subway stations in neighborhoods where 311 receives the most illegal conversion complaints. The flyers are available in 11 different languages and can be found on the Department's website at nyc.gov/buildings.
On August 13, Mayor Michael R. Bloomberg signed two laws to increase bicycle access and encourage cycling in NYC.

Bikes in Buildings
The Bikes in Buildings Law (Local Law 52 of 2009) encourages bicycle commuting by providing cyclists with
secure parking during their workday. The law requires commercial office buildings to provide access to employees who request to bring their bikes into the building. The law goes into effect on December 11.
Learn more
at the Department of Transportation's website.
Bicycle Parking in Public Parking Garages
Local Law 51 of 2009 requires public parking garages to provide at least one bicycle parking space for every ten car parking spaces. The new law, which went into effect on November 11, is overseen by the Department of Consumer Affairs. Parking garage operators may apply for a waiver to the new requirement if compliance violates existing zoning regulations for their garage.
Visit the "Bicycle Access" page in the Sustainability section of our website to learn more about these laws.
Service Updates
partial demolitions. View DOB's guide to submitting demolition documents.
Penalty Relief Program
Individuals who have had the default penalty imposed for
their ECB violation may be able to reduce the amount of fines owed through the City's Penalty Relief Program. This program is offered until December 21.
Fire Alarm Plan Examination
Fire alarm plans are now being reviewed by the FDNY at its
Limited Alteration Filings
BISWeb is being updated to display additional information
about Limited Alteration Applications, including the date of approval. The Department is revising the LAA1 to support these changes. The new form must be used beginning December 7.
Predominately Built-up Areas
The Department issued
Buildings Bulletin
2009-024
which clarifies whether a predominately built up area may be located in a Special Mixed Use district.
Alterations to Small Establishments
The Department issued
Buildings Bulletin 2009-25 which clarifies the requirement for a new or amended Certificate of Occupancy for alterations to small, existing establishments.
Keep reading Buildings News for new information and updates.