Department Leads Elevator Escalator Safety Week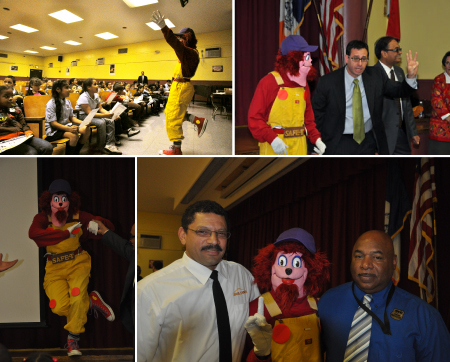 Commissioner Robert LiMandri and five members from the Department's Elevators Unit visited P.S. 19 in Williamsburg, Brooklyn on November 9, kicking off two weeks of safety classes to educate first, second and third graders in New York City's public schools. As a part of National Elevator Escalator Safety Awareness Week, the Buildings Department is visiting 13 schools in all five boroughs to teach children how to safely ride the City's 60,000 elevators and 2,200 escalators and what to do in the event of an emergency. After the event at P.S. 19, 170 students received Junior Inspector badges and certificates of completion.
The classes feature a coloring book with educational activities about elevators and escalators, a short video, and tips from Safety Kat, the dynamic mascot of Elevator Escalator Safety Week who helps children learn how to stay safe. In a city like New York, where escalators and elevators are a part of daily life, these classes are an opportunity to help New York City's children learn how to prevent accidents and be prepared to 'Ring, Relax and Wait' in case of an emergency.
View more photos from the event.
View the safety flyer.
Energy Conservation Construction Code
Energy Code Compliance
Learn how to meet New York State's energy code requirements. Download our new guide.
Energy Code Training Session
On December 2, join the American Institute of Architects, the American Society of Heating Refrigerating and Air-Conditioning Engineers, and the Urban Green Council at an energy code training session. The session will cover both state and city requirements. Continuing education credits are available. Learn more.
Wednesday, December 2, 2009
8:00am – 4:30pm
Center for Architecture
536 LaGuardia Place, New York, NY
Energy Code Request for Proposals
The New York State Energy Research Development Authority (NYSERDA) issued a Request for Proposals for providers to help inform people about the energy code. Proposals are due by 5:00pm on Monday, December 7.
ICC 2009 Annual Conference
The Department also participated in the "Major Jurisdiction" meeting where representatives from state capitals, large cities and cities with populations greater than 1 million residents discussed the most effective strategies for administration, building maintenance and safety.
The annual conference and code development hearings, which attract experts from around the world, run for two weeks each year and serve as the basis for development and modification of the International Building Code.
Service Updates
Safety Registration
Individuals and organizations performing or supervising
certain construction projects must secure a
Safety Registration Number
by December 1. The
PW2
form has been
updated
to support the safety registration number requirement and is available online. Both versions of the PW2 will be accepted until December 1.
will go into effect for full and partial demolitions. Contractors must now call (212) 227-4416 to notify the Department 24 to 48 hours before starting work.
New Fees for ACP5 Form
The filing fee for the ACP5 form is now $25.00
Fire Alarm Plan Examination
Beginning in December, fire alarm plans will be reviewed by
the Fire Department at FDNY headquarters at 9 MetroTech in Brooklyn. To find out more about the upcoming changes, visit the FDNY Bureau of Fire Prevention's website.
Revised PW1 Coming
In January, the Department will revise the PW1 form to support
new asbestos requirements. Applicants must use either the 07/08 or 10/09 versions until then.
Limited Alteration Filings
BISWeb is being updated to display additional information
about Limited Alteration Applications, including the date of approval. The Department is revising the LAA1 to support these changes. The new form must be used beginning December 7.
Buildings Bulletin 2009-020
The Department issued Buildings Bulletin 2009-020
which establishes acceptance criteria for stay-in-place, foam plastic insulating concrete form systems.
Holiday Closure
The Department will be closed on Thursday, November 26
Keep reading Buildings News for new information and updates.
Dan Eschenasy, PE,
Chief Structural Engineer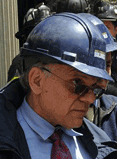 On Saturday, November 14, Buildings Department Chief Structural Engineer Dan Eschenasy, PE, delivered a presentation on his paper Wind Related Failures of Temporary Construction Installations at the American Society of Civil Engineers' 5th Annual Congress on Forensic Engineering in Washington D.C.
At the event, which was held November 11 to November 14, Mr. Eschenasy reviewed his findings with more than 200 attendees and discussed ways to improve practice and code provisions. Mr. Eschenasy's paper compares construction and non-construction related wind incidents and focuses on statistics of fences, sidewalk sheds, construction formwork and scaffold incidents.
Mr. Eschenasy has served the City for 18 years and worked at the Buildings Department since 2004.