On Tuesday, June 22, the Department of Buildings and Department of Cultural Affairs launched the urbancanvas Design Competition, a unique contest seeking to beautify construction sites with temporary art. Supported by a grant from the Rockefeller Foundation to the Mayor's Fund to Advance New York City, the competition asks participants to create designs for construction fences, sidewalk sheds, supported scaffolds and cocoon systems, which are used to protect New Yorkers during construction.
As part of the competition, artists must develop individual designs for each temporary protective structure that are compatible in a variety of possible combinations and that represent a cohesive artistic vision. Submissions must include designs that can stand alone or be displayed together on combinations of temporary protective structures at the same location.
Learn more about the urbancanvas Design Competition at www.nyc.gov/urbancanvas.
No-Penalty Deck and Porch Inspection Program
| | |
| --- | --- |
| | The Department is offering penalty-free inspections of decks and porches throughout the City this summer. As the weather gets warmer and residents spend more time outdoors, it is important that these structures are properly |
maintained and in safe condition. Through August 1, property owners can call 311 to request a free inspection from the Department. In the event that repairs are needed, or unsafe conditions that do not present an imminent danger are found, inspectors will defer issuing violations to allow property owners sufficient time to take corrective action.

Learn more about Deck and Porch Maintenance
Increase in Solar Panel Tax Abatements
| | |
| --- | --- |
| | On June 8, Mayor Michael R. Bloomberg and Buildings Commissioner Robert LiMandri announced that the City and Sustainable CUNY have created three Solar Empowerment Zones, strategically selected areas where solar power systems are most beneficial and technically viable, and where development of solar power will be encouraged. |
Also, 25 solar panel tax abatement applications for buildings across the City were approved this year - five times the number approved last year. Visit the Sustainability section of the Department's website, to learn more about tax abatements for solar installations.
Buildings Bulletins
Field Erected Boilers
Buildings Bulletin 2010-017 supersedes Bulletin 2010-016 to set forth procedures and requirements for interim acceptance of field erected boilers used in buildings constructed under the 1968 Building Code or prior codes until December 31, 2011.
Concrete Mix Designs
Buildings Bulletin 2010-018 establishes requirements for preparing and submitting concrete mix designs, procedures for acceptance of field changes to an approved concrete mix design and acceptance testing of concrete associated with field changes.
Vertical Netting
Buildings Bulletin 2010-019 clarifies the criteria for the design of vertical netting, debris netting and material fall protection devices when installed on a building or construction site.
Service Updates
B-SCAN Designators
The Department has added two new discipline designators:
"L" which designates landscape drawings, and "SP/SD" which may be used when filing sprinkler and standpipe work together on the same drawing sheets.

NYC Energy Code
On July 1, 2010, the New York City Energy Conservation
Code (NYCECC) becomes effective. The NYCECC is more stringent than the state energy code and applies to all new building and alteration projects filed on or after July 1, 2010.
Manhattan Customer Service Ticket Options
The Manhattan Borough Office
has changed the customer service ticket options to allow customers to use one application processing ticket to perform multiple transactions. The new ticket options become effective June 28, 2010.

Learn more
Permits that Exclude Concrete Operations
The Department has revised
Filing Representative Registration Renewal
Filing Representative
registrations expire June 30, 2010. The Department is now accepting renewal applications.

Learn more
Keep reading Buildings News for new information and updates.
Department Events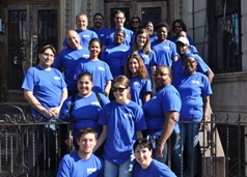 DOB Volunteers Join Habitat for Humanity
On June 18, Buildings Commissioner Robert LiMandri and 20 other volunteers from the Department of Buildings joined Habitat for Humanity-New York City to build homes for 16 families in the Bedford Stuyvesant section of Brooklyn.
Volunteers spent the day performing construction work on the interior of the new buildings, such as installing insulation and measuring, cutting and sanding drywall. This collaboration with Habitat-NYC is the first-of-its-kind for the Buildings Department.


Learn more