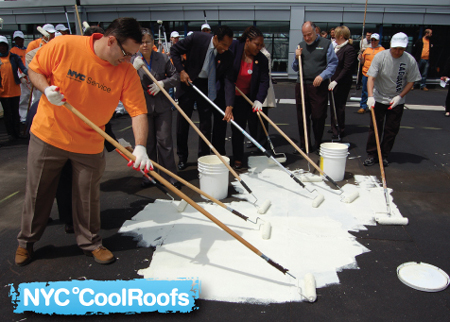 Buildings Commissioner LiMandri cools a roof in Long Island City.
On Tuesday May 11, Buildings Commissioner Robert LiMandri joined Chief Service Officer Diahann Billings-Burford, New York City Housing Authority Commissioner Margarita Lopez, and representatives from Con Edison and the City University of New York's LaGuardia Community College to launch NYC °Cool Roofs, an innovative program to reduce cooling costs, energy usage and greenhouse gas emissions by applying reflective, white coating to rooftops. NYC °Cool Roofs aims to cool 1 million square feet of rooftop in 2010. The program supports New York City's goal to reduce greenhouse gas emissions by 30 percent by 2030.
The Buildings Department, in partnership with NYC Service and the Community Environmental Center (CEC), will coordinate roof-cooling projects on both city-owned and private properties throughout the city, focusing efforts on neighborhoods with above-average energy costs.
NYC °Cool Roofs launched as a pilot program in September 2009 when Mayor Michael R. Bloomberg and former Vice President Al Gore kicked off a pilot program in Long Island City, Queens, a neighborhood where roof temperatures are higher than the citywide average. During the pilot, teams of volunteers coated 100,000 square feet of rooftop.
Learn more about NYC °Cool Roofs at www.nyc.gov/coolroofs