2012 Build Safe │ Live Safe Conference

We kicked off the 8th annual Construction Safety Week with the Department's Build Safe / Live Safe conference at the Marriott Marquis in Times Square! On Monday, Commissioner Robert LiMandri and Deputy Mayor for Operations Cas Holloway opened the event. During the safety summit, a dozen Department experts focused on a host of topics, including 3D Site Safety Plans, which we are now accepting as part of a new program to improve safety. Construction Safety Week also included an expanded Homeowner's and Tenant's Night in each borough office, and we continued our Experience Is Not Enough safety campaign by distributing bracelets and posters — reminding workers they must always use fall protection, no matter how long they've been in construction.
---
No-Penalty Retaining Wall Inspections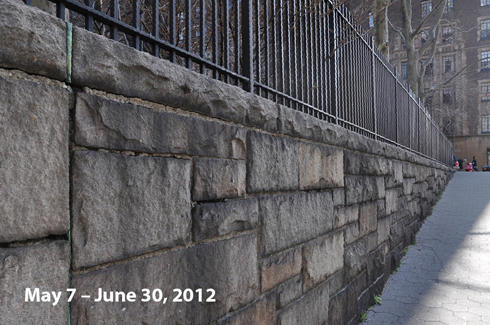 The Department's annual No-Penalty Retaining Wall Inspection Program begins May 7, and it runs through June 30. Our inspectors will be performing free, no-penalty retaining wall inspections, and no violations will be issued during the program. Private property owners with retaining walls are eligible.
Call 311 to request a retaining wall inspection as part of this program.
Service Updates
Special Inspection
Agency Registration
Overview
Amendment to Rule §101-06
Registration Requirements
Deadlines + Filings
Work Without a Permit + SWO Vios
Requesting Overrides, Reductions + Penalty Waivers
Cranes + Derricks
New CD23 + CD25 Forms
Renewals - UPDATED
New ADA Standards
DOB Permits
Benchmarking Reports
Vios for Noncompliance
Security Gates
New Visibility Standards
Place of Assembly Certificate of Operation Renewals
Requesting Duplicates
---
New Buildings Bulletins
2012-005 outlines criteria for gas-fired, direct-vent, space-heating appliances to heat rooms for sleeping.
2012-004 addresses prefabricated parallel chord wood trusses.
2012-003 clarifies "predominantly built-up area" bulk regulations for existing residential buildings.
2012-002 sets standards for fuel-gas compressors, duct burners and heat recovery steam generators in cogeneration and combined heat and power (CHP) projects.
---
New HMO Rules
The requirements for Hoist Machine Operators have been amended.

---
Did You Know...?
In 2011, our in-house customer service specialists received 61,961 calls — and answered 90% of them within 30 seconds.