FDNY Insider- Bureau of Health Services
World Trade Center Medical Monitoring and Treatment Program
WTC FREE Prescription Medication Plan
Funded by the National Institute for Occupational Safety and Health (NIOSH) and The Sept 11th Recovery Grant from the American Red Cross Liberty Disaster Relief Fund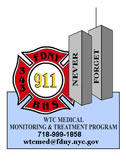 The FDNY WTC Medical Monitoring and Treatment Program is pleased to announce a new program to provide eligible FDNY rescue workers (Fire & EMS; active & retired) with FREE WTC medications. Approved medications will involve NO member co-pay.
What Medications are Covered?
This plan covers medications for the following conditions only: respiratory, chronic sinus, GERD, and mental health. All other conditions are NOT covered by this plan.
The WTC Prescription Medication Plan will use approved generic medications where available and as medically indicated.
If a member does not respond well to the generic, then brand name medications are available with BHS approval.
This strategy allows for the most cost-effective use of the limited federal WTC Treatment Program funding, thereby providing the greatest benefit for the greatest number of Fire and EMS WTC rescue workers (active and retired)
Who is Eligible?
Active and retired FDNY rescue and recovery workers (Fire & EMS) who worked at the WTC site, morgues, or SI Landfill at least one day from 9/11/01 to 7/25/02.
Active members who have had an "annual medical" since Aug. 12, 2005 and agree to keep that updated as directed.
Retired members who have returned for the WTC Retiree Medical Monitoring Exam and agree to keep that updated as directed.
If you have not had the "retiree medical" you can schedule an appointment at (718) 999-1858.
If you have not had the "annual medical" please call Captain Doherty at BHS (718) 999-0221.
If you have not had the "annual exam" but you are currently experiencing a WTC health related issue, please call Lieutenant Bradley at BHS (718) 999-1948.
If you're uncertain about your eligibility and you are an active member, click here to find out.
How Do I Enroll In The Free Prescription Medication Program?
First, you should have already received a WTC Prescription Plan welcome letter and Temporary Proof of Benefits form. If you believe you are eligible and have not received these, please call (718) 999-1858.
If you meet the eligibility requirements above, you will automatically get a prescription card in the mail.
FDNY must have your current mailing address in order for your prescription card to reach you.
If you need to correct your address with the FDNY, you need to complete the CD-6 form, available through FDNY Personnel (718) 999-1170. Only you can file this form.
If you meet the first eligibility requirement above but have not had a recent exam, as soon as you have your medical exam you will automatically get a prescription card in the mail.
If you are seeing a physician at BHS, there is no further paperwork.
When Will I Receive the FDNY WTC Prescription Medication Card?
All eligible members have had a letter and a Temporary Proof of Benefits (TPB) letter mailed to the address currently on file with the FDNY.
Until WTC prescription ID cards are mailed, you will present the TPB letter at your initial BHS WTC Treatment visit.
You will also present this TPB letter, along with your initial BHS authorized WTC prescription(s), to your local pharmacy if you are getting a short-term prescription filled.
Your subsequent prescription(s) for WTC maintenance medications will be by 90-day mail order from Express Scripts. Mail-order forms and envelopes are available at BHS.
In February, WTC Treatment Program Prescription cards will be mailed by Express Scripts, the WTC Treatment Program's Pharmacy Benefit Manager (PBM). Express Scripts is also the PBM for the UFOA and the PICA Programs (post-7/1/05). Express Scripts, BHS and our unions are committed to making this program work.
Facts About the Free WTC Prescription Medications Program
Only for BHS WTC-approved prescriptions dated after Dec. 1, 2006.
Only WTC prescriptions approved by BHS physicians are covered under this plan.
For WTC medications, you must use the WTC Prescription card or Temporary Proof of Benefits (TPB) letter.
Please present the card or letter at both your BHS WTC Treatment appointment and at your local participating drugstore for your initial short-term WTC prescription(s).
Eligible members will receive this WTC Prescription card shortly from Express Scripts if the FDNY has your current mailing address.
Remember, this new prescription card does not replace other cards you may have.
Your union prescription card continues to cover other medications for you and your family.
The new WTC Treatment Program card is for approved WTC medications only.
What are "Unauthorized" Prescriptions?
any prescription dated before Dec. 1, 2006
any prescription not approved by a BHS WTC medical professional
any prescription filled at a non-participating pharmacy
any prescription obtained by using a card other than the FDNY WTC Treatment Card (your union prescription card is NOT valid for this no-cost program)
paying full retail price for a prescription using cash or credit card
Please Note: The WTC Treatment Program will not reimburse you for unauthorized prescriptions. There will be no exceptions.
How Long Will the Program Last?
This free WTC medication plan is federally funded through the National Institute of Occupational Safety and Health (NIOSH) WTC Treatment Program, co-designed by BHS and our Fire and EMS union partners - the UFA, UFOA, and Locals 2507 and 3621 – and by The Sept 11th Recovery Grant from the American Red Cross Liberty Disaster Relief Fund.
The duration of the expanded BHS WTC Treatment Program, including prescription medication reimbursement, is limited by the current appropriated funding (probably no more than 1 year).
Dr. Kelly, Dr. Prezant, and your unions will continue to seek additional federal funding to extend this extremely worthwhile program, but there are no guarantees.
Where Can I Go For Additional Information About This BHS WTC Treatment Program?
BHS WTC line -- (718) 999-1858
WTC on the web --
Express Scripts toll-free customer service 24-hour hotline -- (888) 454-2506
Express scripts web site -- www.express-scripts.com