Family Ju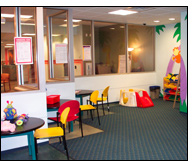 stice Centers (Mayor's Office to Combat Domestic Violence)
Mayor Bloomberg opened the first New York City Family Justice Center in Brooklyn in 2005 to provide a range of centralized services for domestic violence victims. The overall objective of the Family Justice Center Initiative is to break the cycle of domestic violence by providing essential advocacy, case management, legal and housing assistance under one roof. Services are provided with the involvement of partner agencies including non-profit organizations, City and State agencies, District Attorney's Offices, and faith-based organizations. 

Because of the success of the first center, the Mayor opened two more centers in Queens (July 2008) and the Bronx (April 2010). 
Learn more about the Family Justice Centers on the Mayor's Office to Combat Domestic Violence website.



Let's Call an End to Human Trafficking (Office of the Mayor)


Human trafficking is a form of modern-day slavery - when a person is forced, tricked, or coerced into performing commercial sex acts or other forms of labor. New York City is already a leader in combating human trafficking. In 2006, Mayor Bloomberg established the Anti-Human Trafficking Task Force to address the growing problem of foreign and domestic human trafficking. The Task Force is charged with coordinating the efforts of the many different agencies and organizations that combat human trafficking and commercial sexual exploitation of children.
NYC's Let's Call an End to Human Trafficking launched in May 2010 and has three primary objectives: to educate the public about the definition of human trafficking and increase awareness of this crime as an issue in NYC; to engage New Yorkers in the fight against human trafficking; and to encourage victims to come forward and provide them with meaningful help and services. The campaign is helping to expose this issue so New Yorkers can take part in the fight against human trafficking and encourage victims to come forward and seek help.
Learn more about this effort on the Let's End Human Trafficking website.


Ready New York (Office of Emergency Management)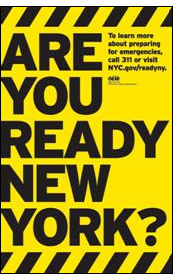 Ready New York is the City's educational campaign to encourage New York City residents to prepare for all types of emergencies. Ready New York teaches a universal approach to preparing, based on three guiding principles: knowing the hazards in New York City, making a disaster plan, and stocking emergency supplies. The campaign includes eleven multilingual publications, public service announcements, multimedia advertising, extensive web content, a speaker's bureau, a reprinting program, corporate partnerships, and continuous community outreach. Many of these Ready New York resources are made possible through private donations that allow for printing and increased distribution of publications including Ready New York for Kids, an emergency preparedness guide for the City's children. Learn more about Ready New York at www.nyc.gov/readyny.  



Gracie Mansion (Office of the Mayor)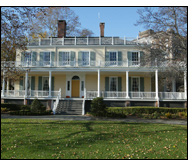 The Gracie Mansion Conservancy is a private not-for-profit corporation established in 1981 to preserve, maintain, and enhance Gracie Mansion - one of the oldest surviving wood structures in Manhattan and a member of The Historic House Trust. The Conservancy's mission is to raise funds to restore and maintain the historic structure and acquire furnishings that illustrate the rich history of New York; improve the surrounding landscape and gardens; and provide educational services, including publications and tours.
Tours are offered on Wednesdays at 10:00 am, 11:00 am, 1:00 pm, and 2:00 pm; $7 for adults, $4 for seniors, students free. Group tours are also available. To make reservations for individuals or groups, to volunteer or to help support the Gracie Mansion Conservancy, please visit the Gracie Mansion Conservancy website or email gracietours@cityhall.nyc.gov.


NYC Civic Corps (Office of the Mayor)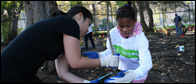 As part of NYC Service, the Mayor's initiative to promote volunteerism in New York City, NYC Civic Corps was launched on April 20, 2009. NYC Civic Corps matches individuals with local public and nonprofit organizations to help build sustainable-impact volunteer programs. Now in its second year, the initiative is helping to drive volunteer activity to the issues where the City's needs are greatest: strengthening neighborhoods and helping neighbors in need, education, health, emergency preparedness and the environment. NYC Civic Corps members receive a monthly living allowance, health insurance, educational awards, and other benefits. For more information go to www.nyc.gov/service.

Greater NY (Office of the Mayor)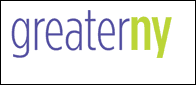 Launched by private sector business leaders in response to the current economic crisis, Greater NY is a strategic partnership program that pairs business executives with nonprofit executive directors in an effort to build stronger and more effective nonprofits. Through two-year one-on-one partnerships, leaders work together to develop and implement innovative solutions to nonprofit business challenges using best practices from both the private and nonprofit sectors.

Greater NY is one of a series of initiatives announced by the Mayor on April 6, 2009 to help nonprofit organizations survive the economic downturn. These initiatives aim to reduce nonprofit organizations' fixed costs, expand loan programs, enhance the responsiveness and efficiency of City contracting procedures to speed payments, and build new partnerships, such as Greater NY, to help foster stronger nonprofits. To learn more, go to www.nyc.gov/nonprofit.

Cultural and Heritage Events (Office of the Mayor)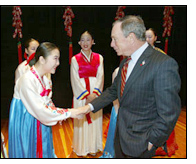 Each year, Mayor Bloomberg hosts approximately 200 events throughout the five boroughs celebrating the culture and heritage that make New York City a unique and vibrant place. Gracie Mansion serves as a beautiful and historical centerpiece for many of these gatherings as do local schools, museums, theaters, and various landmark buildings. The Mayor's Office of Special Projects and Community Events, in partnership with the Mayor's Fund, raises private support to help defray costs associated with the event production.
Events include celebrations of Black History Month, Dominican Heritage, Greek Heritage, Hispanic Heritage, Italian Heritage, LGBT Pride Month, Lunar New Year, Martin Luther King Jr. Day, Puerto Rican Day, St. Patrick's Day, West Indian Day, and Women's History Month. In addition to these celebrations, the City annually hosts the Mayor's Awards for Arts and Culture, the Mayor's Awards for Excellence in Design and the Doris C. Freedman Award, recognizing individuals and organizations that have made significant contributions to city design and the cultural life of New York City.

Neighborhood Opportunity Network (Department of Probation)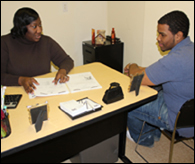 The Neighborhood Opportunity Network (NeON) initiative establishes community-based probation offices that work with a network of local educators, local businesses, community organizations, government agencies, and community residents to link probation clients to resources and help them develop skills as they reintegrate into their neighborhoods. NeON locations are currently open in Brownsville, Harlem, Jamaica, Staten Island and the South Bronx, with two more on the way in East New York and Bedford-Stuyvesant.  DOP is also establishing NeON Satellites at the offices of local organizations.  There are currently two NeON Satellites in Upper Manhattan and three in Staten Island.  The NeON strategy further seeks to transform neighborhoods by engaging with community members through a variety of avenues including public forums, community boards, tenant associations, and faith-based organizations to design and implement community benefit projects. Probation clients who find work, continue their education, support their families and contribute to the well-being and stability of their neighborhoods help build stronger, safer and more vibrant communities.
Learn more about NeON on the Department of Probation's website.

NYCitizenship in Schools (Mayor's Office of Immigrant Affairs)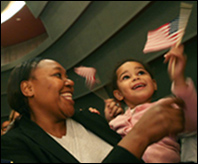 NYCitizenship in Schools serves eligible foreign-born parents of NYC public school students with information on the naturalization process, free immigration legal assistance, and access to microloans and free financial counseling to help them apply to become U.S. citizens. Led by the Mayor's Office of Immigrant Affairs in partnership with CUNY Citizenship Now!, the NYC Department of Education, the NYC Department of Consumer Affairs' Office of Financial Empowerment, the East River Development Alliance and the Neighborhood Trust, this unique initiative addresses common barriers to naturalization while also providing many low-income families access to financial assistance and counseling to help them build financial independence in the United States. By combining a myriad of services into a single initiative and launching this program in the public school system, NYCitizenship in Schools is leveraging a previously untapped opportunity to connect immigrant families with a range of public and private sector service providers in a safe, familiar setting at a critical stage in their preparation for college and future career and life success. The services of this program are available for eligible parents who are Lawful Permanent Residents and seeking to begin the application process to become U.S. citizens. Parents are being notified about service events through school and community outreach. 
Learn more about NYCitizenship in Schools on the Mayor's Office of Immigrant Affairs Website.