"Increasing immigrant access to citizenship is a powerful tool for fighting poverty"
- Nisha S. Agarwal, NYC Commissioner for Immigrant Affairs
Cities for Citizenship (C4C) is a major national initiative aimed at increasing citizenship among eligible U.S. permanent residents and encouraging cities across the country to invest in citizenship programs. It is chaired by New York City Mayor Bill de Blasio, Chicago Mayor Rahm Emanuel, and Los Angeles Mayor Eric Garcetti, with support from the Center for Popular Democracy and the National Partnership for New Americans. Citi Community Development is the Founding Corporate Partner.
The national C4C initiative builds on Mayor de Blasio's pledge to reduce economic inequality and improve immigrant integration in New York City. Benefits of naturalization range from higher earning potential to increased political participation for families. It is also estimated that boosting citizenship will add as much as $4.1 billion to the City's economy in the next 10 years.

There are nearly 700,000 permanent residents in New York City who are ready to take the final step to becoming citizens but have not done so because of cost or lack of access to sound legal advice. You could be one of them.
Learn more about NYCitizenship, a program that connects permanent residents (green card holders) to financial counseling, microloans, and immigration legal assistance.
If you or someone you know needs quality legal help with their citizenship application, or has questions about the fees, read below. We can help.
The NYCitizenship initiative is dedicated to helping immigrant New Yorkers on their way to becoming U.S. citizens. At our service events, you will receive free information and legal assistance from qualified attorneys who will help you complete the naturalization application (Form N-400). You will also receive information about financing options available to help you cover the cost of the application fee.
In order to be eligible, you must be a Lawful Permanent Resident (green card holder) for at least four years and nine months OR two years and nine months if married to and living with a U.S. citizen. All information is free and confidential.
Read more about eligibility and what to bring to a service event.
In June 2015, Mayor Bill de Blasio and U.S. Citizenship and Immigration Services (USCIS) announced a new partnership to strengthen citizenship education and awareness in New York City, together with the City's three public library systems.
Mayor de Blasio, USCIS Director Leon Rodriguez, and the presidents of the New York, Queens, and Brooklyn library systems signed letters of agreement to demonstrate their commitment to this joint effort to promote citizenship.
Under the partnership, the City, USCIS, and the libraries have set up New Americans Corners in all 217 library branches in the five boroughs. Libraries are important community centers that immigrants trust and turn to for immigration and assistance.
Through the New Americans Corners, library visitors will be able to access information and resources about citizenship, financial empowerment, and entrepreneurship. The City's new agreements with USCIS and the public library systems also facilitate the flow of additional materials and training among the partners.
Promoting citizenship is a key priority for Mayor de Blasio and the Mayor's Office of Immigrant Affairs. There are hundreds of thousands of immigrants in New York City who are eligible to apply for U.S. citizenship but need help taking that final step. Increasing immigrant access to citizenship is a powerful tool for fighting poverty and supporting the economic empowerment and civic integration of foreign-born New Yorkers. See more at the Cities for Citizenship campaign.
REGISTER FOR AN EVENT or call (212) 788-7654 or call our office at 212-788-7654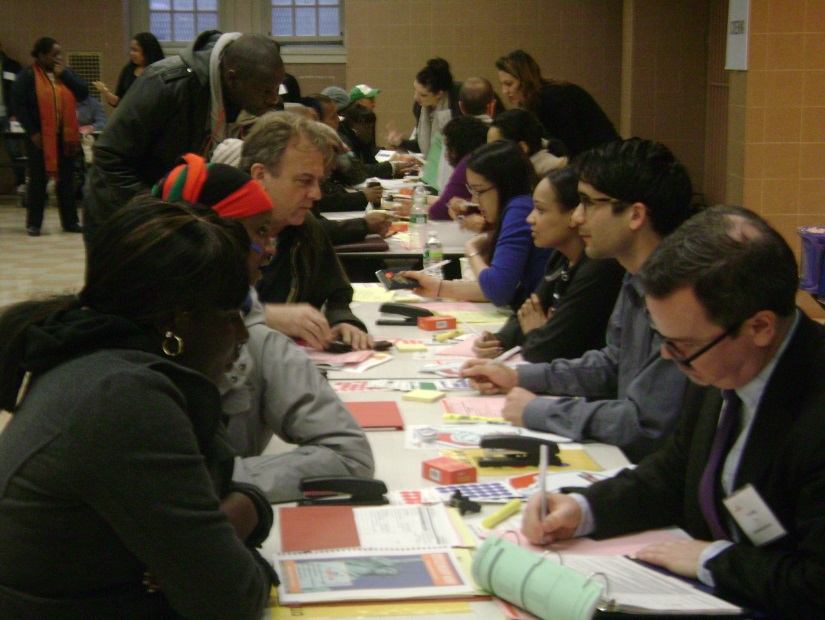 NYCitizenship is a coordinated effort between:

Mayor's Office of Immigrant Affairs
Department of Education
Office of Financial Empowerment
United States Citizenship & Immigration Services
City University of New York Citizenship Now!
Urban Upbound Credit Union
*Funding for this project is generously provided by Citi Community Development
In the press:

Cities for Citizenship Launch
ELIGIBILITY

In order to apply for U.S. Citizenship, you must meet the following requirements:
Reside in the United States as a green card holder (legal permanent resident) for five years (three years if living with and married to a U.S. citizen)
Live in the United States for half of the five or three year period
You are at least 18 years old
Documents to bring:
Green card and all passports since obtaining green card
A list of all trips taken outside the U.S. since obtaining green card
Home addresses for the last five years (three years if married to a U.S. citizen)
Parents' information (naturalization date if applicable, date of birth, country of origin)
Children's information (date of birth, A#, addresses)*
Employment history for the last five years (three years if married to a U.S. citizen)*
Marital history for you and your spouse*
Criminal history*

*If applicable Applicants pay a $680 filing fee to USCIS. A fee waiver or micro-loan option may be available. (You do NOT have to bring money to the event.)
Fee Waiver Application

A fee waiver is available to those that are unable to pay for the $680 filing fee. To qualify, you must prove "inability to pay" by showing USCIS that you receive public benefits, that your household income is 150% below the federal poverty guidelines, and/or that you have extraordinary expenses that make it impossible to pay the fee.
In order to apply for the fee waiver, the following documents are needed:
Copy of benefit award letters (if applicable)

To request Food Stamp Award letter, call (718) 722-8009
To request SSI Award letter, call (1-800) 772-1213

Copy of Medicaid Award letter, and/or public benefits cards (if applicable)

To request Medicaid Award letter, call (212) 695-054
Copy of IRS tax returns for the most recent tax year, most recent pay stubs, or other proof of income for all household members
For other forms of free or low-cost immigration assistance, visit:

New York State Immigration Hotline: (800) 566-7636 - General information about immigration and referral