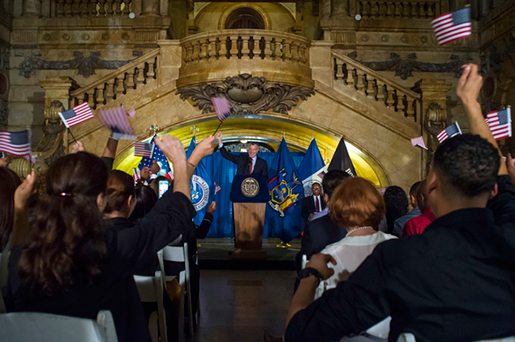 Mayor Bill de Blasio celebrates Citizenship Day 2015 by speaking at a special naturalization ceremony for 100 New Yorkers. Photo credit: Ed Reed/Mayoral Photography Office.
Latest Research on Economic Benefits of Increased Naturalization
New research from the Urban Institute, supported by NYC's Mayor's Office of Immigrant Affairs and Citi Community Development, gives quantifiable evidence of citizenship as an economic catalyst. Read the report and the release.
Why should I become a US Citizen?
New York City is home to an estimated 700,000 lawful permanent residents who may be eligible to naturalize. U.S. Citizenship provides many positive social and economic benefits for the individual, their family members, and their local communities. Listed below are a few of the many benefits a person receives when he or she becomes a U.S. citizen.
Financial and employment benefits
Higher earning potential. Research has shown that obtaining naturalization status may result in wage increases.
New access to certain government and private employment, including government-contracted employment
Save money over time because there is no need for green card renewal
Increased civic engagement opportunities
Vote in local, state, and federal elections
Serve on juries
Run for and hold public office
Family benefits
Speedier pathway to citizenship for family members
Automatic citizenship for children under 18 who meet certain requirements
Education benefits
Access to certain college scholarships and fellowships that require U.S. citizenship
Travel benefits
Many countries allow visa-free travel for U.S. citizens and others offer simple processes to get a visa
Easier travel and re-entry into the United States
Ability to take longer trips outside the United States without losing the right to residency

Am I eligible to apply for U.S. citizenship?

Get free legal help with my citizenship application!

Citizenship Initiatives

Increasing immigrant access to citizenship is a powerful tool for fighting poverty and expanding civic engagement. Individuals, families, communities and the City as a whole benefit from greater citizenship rates. Yet, many eligible immigrants have not taken steps to apply for citizenship because of cost, lack of access to legal advice, or other obstacles. For this reason, MOIA is committed to promoting immigrants' access to citizenship through a range of innovative partnerships and initiatives.

New Americans Corners
In June 2015, Mayor Bill de Blasio and U.S. Citizenship and Immigration Services (USCIS) announced a new partnership to strengthen citizenship education and awareness in New York City, together with the City's three public library systems.

Under the partnership, the City, USCIS, and the libraries have set up New Americans Corners in all 217 library branches in the five boroughs. Libraries are important community centers that immigrants trust and turn to for immigration and assistance.
Through the New Americans Corners, library visitors will be able to access information and resources about citizenship, as well as obtain information about financial empowerment, and entrepreneurship support.

This partnership is based on signed letters of agreement between Mayor de Blasio, USCIS Director Leon Rodriguez, and the presidents of the New York, Queens, and Brooklyn Library systems to demonstrate their commitment to this joint effort to promote citizenship. The agreements set the stage for increased coordination, as well as the provision of additional materials and trainings, among the partners.

Cities for Citizenship
Cities for Citizenship (C4C) is a national initiative aimed at encouraging cities across the country to invest in citizenship programs and increase naturalization rates.

C4C was launched in the fall of 2014 and is chaired by New York City Mayor Bill de Blasio, Chicago Mayor Rahm Emanuel, and Los Angeles Mayor Eric Garcetti, with support from the Center for Popular Democracy and the National Partnership for New Americans. Citi Community Development is the Founding Corporate Partner.

The effort has expanded to include 18 cities, including the nation's largest cities, as well as partners in labor and the private sector.