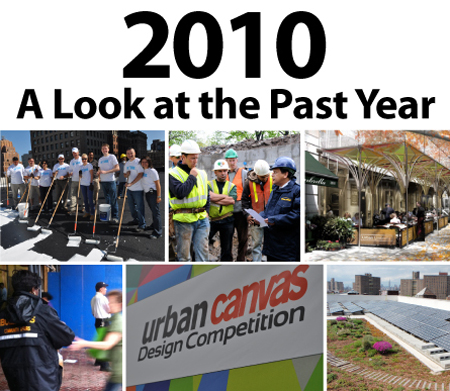 The Department of Buildings launched several major initiatives in 2010 designed to make New York City a better place to live, work and build.
New Design for Sidewalk Sheds
In January, Mayor Bloomberg and Commissioner LiMandri unveiled the winner of the City's urbanSHED International Design Competition. The competition winner, "Urban Umbrella," was developed by Young-Hwan Choi, a 28-year-old student from the University of Pennsylvania with assistance from Sarrah Khan, P.E., and Andres Cortes, R.A., of the New York-based design firm Agencie Group.
Illegal Conversion Campaign
The Department continued its campaign to educate New Yorkers about the dangers of living in illegally converted living spaces. Since November 2009, Department employees have distributed more than 100,000 flyers in 11 different languages across the five boroughs. The flyers help residents recognize illegal conversions in their own living spaces and include important recommendations on how to stay safe, including reminders for working carbon monoxide and smoke detectors.
Annual Construction Safety Week
More than 230 people attended professional seminars and community meetings held across the City as part of the Department's Sixth Annual Construction Safety Week. During Construction Safety Week, Department officials and volunteers joined with officials from the Fire Department and Office of Emergency Management to visit construction sites to meet with workers and discuss ways to stay safe on the job.
Retaining Wall, Deck and Porch Inspection Programs
The Department continued its annual Retaining Wall Inspection Program and offered a new program for homeowners to request inspections of decks and porches. These programs are designed to encourage homeowners to check that their outdoor structures are safe.
NYC °Cool Roofs
In May, the Department of Buildings and NYC Service launched NYC °Cool Roofs, a program that encourages building owners to apply a reflective white coating to their rooftops to helps reduce cooling costs, energy usage and greenhouse gas emissions. By October, the City reached its goal of coating 1 million square feet of rooftop.
urbancanvas Design Competition
In June, the Department of Buildings and Department of Cultural Affairs launched the urbancanvas Design Competition, a unique contest seeking to beautify construction sites with temporary art. Nearly 4,000 votes were cast in a public vote to select four winning designs. The first design, "Color Mesh," was installed in October on a 228 foot-long fence at the Atlantic Yards construction site in downtown Brooklyn.
New Energy Code
On July 1, the City passed the New York City Energy Conservation Code (NYCECC), the first energy code specifically developed for New York City. The NYCECC requires all new building and alteration projects to meet new efficiency standards. In December, an updated version of the NYCECC became effective.
2011 - 2013 Strategic Plan
The Department released its 2010-2013 Strategic Plan (PDF) which outlines a plan to meet the challenges of the next three years, focusing on enhancing the quality of life and making the City safer for all New Yorkers. Highlights of the Plan include improving inspections and service levels, updating regulations, increasing the use of technology and working with the community to improve quality of life.
Facade Safety Initiative
Following a fatal fall from a balcony in Midtown, the Department launched the largest facade safety initiative in its history. From March to September, Inspectors went to 848 buildings in every borough and issued vacate orders to the balconies of 17 buildings where conditions posed an immediate risk to tenants. Conditions at three of the buildings have been corrected and the vacate orders lifted.
National Elevator Escalator Safety Week
The Department taught more than 3,000 first, second and third graders elevator and escalator safety tips as part of National Elevator Escalator Safety Week. For the first time since the Department's annual educational program began in 2004, Inspectors visited two senior citizen centers and provided safety tips to 350 elderly residents.
Buildings at Work Video Series
The Department launched Buildings at Work, an online video series that provides an inside look at our specialized teams of architects, engineers, inspectors and administrators and their work in ensuring the safe and lawful use of more than 975,000 buildings and construction sites throughout the City. So far, the Scaffold Safety Team and Buildings Enforcement Safety Team have been featured.
New Deputy Commissioners
This year, two new Deputy Commissioners joined the Department: Deputy Commissioner for Enforcement Eugene J. Corcoran and Deputy Commissioner for Legal Affairs Susan J. Pogoda. Deputy Commissioner Corcoran has more than 30 years of law enforcement experience and his appointment marks the first time a former law enforcement official has joined the senior leadership of the Department. Deputy Commissioner Pogoda brings more than 25 years of legal experience and public service to the Department.