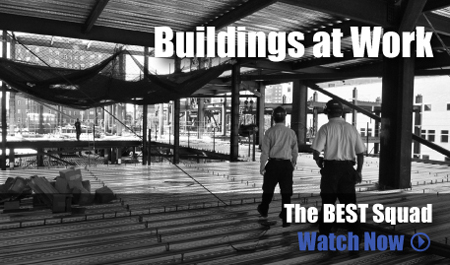 Follow the Buildings Enforcement Safety Team as they inspect high rise buildings across New York City. Buildings at Work is a series that provides an inside look at the New York City Department of Buildings.

Watch Buildings at Work
urbancanvas Winners Announced
| | |
| --- | --- |
| | On October 27, 2010, Mayor Bloomberg announced the winners of the urbancanvas Design Competition. Nearly 4,000 votes were cast in a public vote. The winning designs are: "Breathing Wall" by Monika Bravo, "Color Mesh" by Mauricio Lopez, "My Urban Sky" by Jen Magathan and "Green Screen," by Corinne Ulmann. |

The first installation was a 228 foot-long fence at the Atlantic Yards construction site in downtown Brooklyn and featured the "Color Mesh" design.

Learn more about urbancanvas:
www.nyc.gov/urbancanvas
www.facebook.com/nycurbancanvas
Service Updates
High Pressure Boilers
Owners must retain a qualified boiler inspector to
perform annual high pressure boiler inspections. The Department will no longer conduct these inspections. New report filings, extensions, civil penalties and waivers are also now part of the inspection cycle.

Learn more
Resolve Violations Without Attending a Hearing
You now have the option to
resolve ECB violations without attending the hearing at ECB Court.

Learn more
Keep reading Buildings News for new information and updates.
Staff Spotlight
Department Educates NYU Students about Illegal Conversions
| | |
| --- | --- |
| | On November 4, 2010, Director of Community Affairs Donald Ranshte spoke to students from New York University at the NYU Kimmel Center about |
the dangers of illegal apartments. Donald provided students with tips on how to spot an illegal apartment and avoid renting one. Tips include being cautious about no lease apartments and avoiding rooms with no windows.
He also discussed the common practice of installing pressurized walls to make additional bedrooms. The installation of any floor-to-ceiling walls require a permit from the Department. Donald advised that these walls were illegal and created potential safety hazards.

View more Renter's Tips