One Million Square Feet of Rooftop Cooled in NYC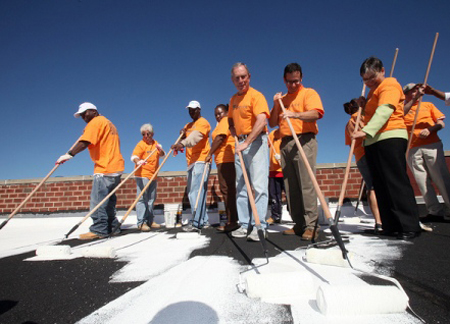 On October 14, Mayor Michael R. Bloomberg, Buildings Commissioner Robert LiMandri and Chief Service Officer Diahann Billings-Burford applied a reflective, white coating to the one millionth square foot of rooftop as a part of the NYC °CoolRoofs program.
Under the program, the roofs of 105 public, private and non-profit buildings have received a reflective white coating.

Read the Mayor's Office Press Release


View Photos


Learn more about NYC Cool Roofs
2010-2013 Strategic Plan
The Department of Buildings'

2010-2013 Strategic Plan

outlines the Department's plan to meet the challenges of the next three years, focusing on enhancing the quality of life and making our City safer for all New Yorkers.

Highlights of the Plan include improving inspections and service levels, updating regulations, increasing the use of technology and being proactive to community needs.
Buildings Bulletins
Elevator in Readiness
Buildings Bulletin 2010-024 clarifies the requirement for elevator-in-readiness in buildings undergoing construction or demolition.
You can find specific Buildings Bulletins by using the search feature in the top left-hand corner on the Department's website. Type in the topic you are searching (i.e. concrete) and select "Buildings Bulletins" from the drop-down menu. Hit "Go" and a list of all Buildings Bulletins related to the topic will be generated for you.
Service Updates
High Pressure Boilers
Owners must retain a qualified boiler inspector to
perform annual high pressure boiler inspections. The Department will no longer conduct these inspections. New report filings, extensions, civil penalties and waivers are also now part of the inspection cycle.

Learn more
Resolve Violations Without Attending a Hearing
You now have the option to
resolve ECB violations without attending the hearing at ECB Court.

Learn more
Keep reading Buildings News for new information and updates.
Staff Spotlight
DOB College Aide Wins NYCHA Scholarship
| | |
| --- | --- |
| | Department of Buildings College Aide Ebony Alston recently won a $1,000 scholarship from the New York City Housing Authority (NYCHA). |
Ebony, a Bronx resident, is pursuing a Bachelor's Degree in Communications Design at the New York City College of Technology. NYCHA awards scholarships to tenants who attend City University of New York schools, have a 3.0 GPA and demonstrate financial need.

Prior to attending City Tech, Ebony earned an Associate's Degree in Graphic Design from Bronx Community College. She earned a degree from the Fashion Industry High School in Manhattan while raising her 8-year-old brother and caring for her grandmother. Ebony has worked at the Department for three years and currently focuses on supporting community initiatives such as the urbancanvas Design Competition and the NYC °CoolRoofs Program.