DOB Announces Undercover Probe into Illegal Apartments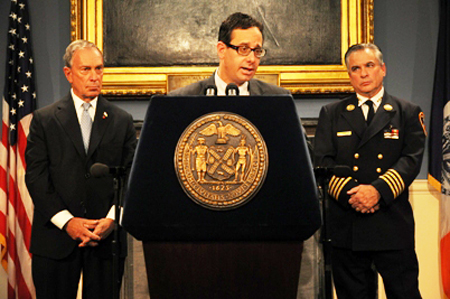 On September 23, Mayor Bloomberg and Commissioner LiMandri announced the results of an undercover operation to crack down on illegally converted dwellings and hold property owners accountable for putting potential tenants and first responders at risk. Department investigators searched Craigslist for apartment rental listings and posed as potential tenants in order to inspect buildings in all five boroughs. Investigators discovered illegal living conditions in 54 of the 62 rental apartments inspected.


Read the Mayor's Office Press Release


Watch Undercover Video
Tips for Finding a Safe Rental Apartment
Illegal dwellings endanger the safety of occupants, neighbors and first responders. To help New Yorkers looking for a rental apartment, the Department has created 10 tips for recognizing an illegal dwelling.

View Renter's Tips Read the Press Release
DOB Educates Bronx Residents About Illegal Conversions
| | |
| --- | --- |
| | On September 17, Department employees distributed flyers at the East 180th Street subway station in the Bronx to educate New Yorkers about the dangers of illegal conversions. The flyers, available in English and ten other languages, help residents recognize illegal conversions in their own living space and also include |
important recommendations on how to stay safe, including reminders for working carbon monoxide and smoke detectors.
Earlier the same week, firefighters rescued four people from a building fire in an illegally subdivided cellar in the Bronx. Since November 2009, the Department has handed out more than 100,000 flyers.


View flyer
Service Updates
BEST & Special Ops Move
The BEST Squad and Special Operations Team have moved
from 1 Centre Street.
The units are now located:
280 Broadway, 5th Floor
New York, NY 10007

Resolve Violations Without Attending a Hearing
You now have the option to
resolve ECB violations without attending the hearing at ECB Court. To do so, you must admit guilt and pay the fine prior to the hearing.

Learn more
Keep reading Buildings News for new information and updates.
Climate Week NYC 2010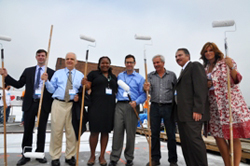 On September 21, Buildings Commissioner Robert LiMandri and Chief Service Officer Diahann Billings-Burford joined a number of local volunteers, community members and other City officials to coat the roof of Broadway Stages in Greenpoint, Brooklyn as a part of the NYC °CoolRoofs Program.
This event concluded Climate Week NYC 2010 and brought the City closer to its goal of coating one million square feet of rooftop this year. This effort will ultimately reduce cooling costs, energy usage and greenhouse gas emissions throughout the entire city.

Learn more about NYC °CoolRoofs