Construction Safety Week 2013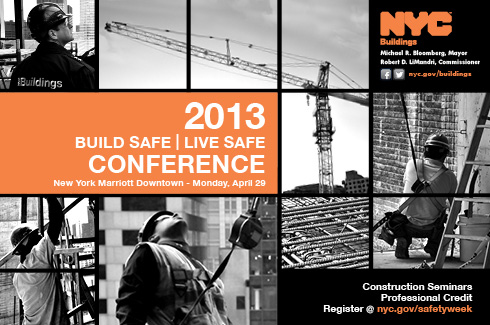 This year's Construction Safety Week begins Monday, April 29 ― and you can join us for the kick off at the 2013 Build Safe | Live Safe Conference. This year's Build Safe | Live Safe Conference will be at the New York Marriott Downtown in Lower Manhattan.
Department of Buildings' engineers, architects and construction experts will outline recent industry trends and discuss a vision for the future of construction operations in the City. Plus, we'll lead multiple construction safety courses for professional credit. Last year's conference sold out ― so secure your seat now!
---
We're in the Hall of Fame!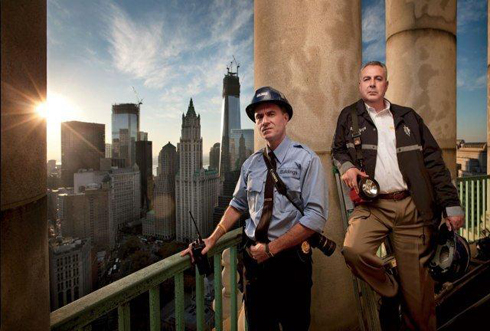 Assistant Commissioner of Engineering and Emergency Operations Michael Alacha, PE, (right) and Acting Assistant Commissioner of Investigative Engineering Services Timothy Lynch, PE, have been honored in Vanity Fair's Hall of Fame! The magazine describes their dramatic, heroic measures to secure the Hurricane Sandy-damaged crane that dangled above West 57th Street.
Plus, Engineering News Record has named Michael one of the top 25 newsmakers in 2012 for his efforts during and after the hurricane.
Service Updates
Licensing Fees
Exams + Background Checks
Post-Hurricane Repairs
Boilers
Elevators
Amusement Rides
Fee-exempt Work - UPDATED
Complete Drawings Pilot
Expanded to Manhattan
Filing Reps + BIS
New PW1 Search
NYC Development Hub
Status Updates to Owners
Boiler Inspections
Deadline Approaching
Elevator Inspections
Deadline Approaching
Electrical Inspections
Improved Process
Schedule Online Now
Electrical Payments
Make Online Payments
Energy Audits + Retrocommissioning
Local Law 87 of 2009 in Effect
Code + Zoning Review Requests
Improved Process + New Tracking
---
New Rules
License Exam Fees
1 RCNY §101-03 ― Effective 12.16.12
Energy Audits + Retrocommissioning
1 RCNY §103-07 ― Effective 10.13.12
---
Did You Know...?
The NYC Development Hub approved more than 330 new buildings and major construction projects in its first year ― and approvals were up to three-times faster than with paper plans!
Read our electronic brochure that highlights many of these projects, which will generate $1.3 billion in potential economic activity.
Also, watch our new video tutorials on Hub Self-Service. Learn how to enroll, file, use forms, opt in, pay fees, upload and validate!