December 23, 2014

(New York, NY-December 23, 2014) The staff of HHC Bellevue Hospital Center's Neonatal Intensive Care Unit (NNICU) recently hosted a holiday party for the NNICU families with babies in the unit. Because this time of the year can be difficult for families with a baby in the NNICU, the staff throws a party every year to brighten their patient's holidays. The moms and other family members made "wish ornaments" and baby shirts for their little ones.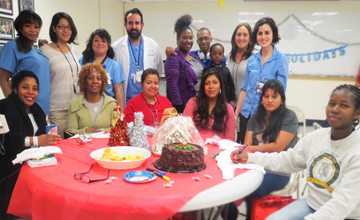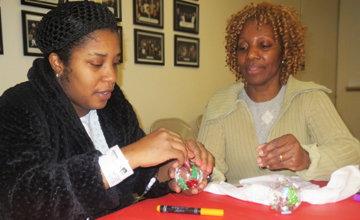 ---
About Bellevue
Bellevue is a member of the New York City Health and Hospitals Corporation (HHC) and is America's oldest hospital, established in 1736. Affiliated with the NYU School of Medicine, Bellevue is a major referral center for highly complex cases. The 828-bed hospital has more than 4,000 employees and works closely with interdisciplinary staff throughout the hospital. Its emergency room sees more than 125,000 visits every year. Clinical centers of excellence include: Emergency Medicine and Trauma Care; Cardiovascular Services; Designated Regional Perinatal Center and Neonatal Intensive Care Unit (ICU); Comprehensive Children's Psychiatric Emergency Program; and Cancer Services.

About HHC
The New York City Health and Hospitals Corporation (HHC) is a $6.7 billion integrated healthcare delivery system, the largest municipal healthcare organization in the country, and one of the New York area's largest providers of government-sponsored health insurance, MetroPlus Health Plan, the plan of choice for nearly half a million New Yorkers. HHC serves 1.4 million New Yorkers every year and more than 475,000 are uninsured. HHC provides medical, mental health and substance abuse services through its 11 acute care hospitals, five skilled nursing facilities, six large diagnostic and treatment centers and more than 70 community based clinics. HHC Health and Home Care also provides in-home services for New Yorkers. HHC was the 2008 recipient of the National Quality Forum and The Joint Commission's John M. Eisenberg Award for Innovation in Patient Safety and Quality. For more information, visit www.nyc.gov/hhc or find us on facebook.com/nycHHC or twitter.com/HHCnyc.
---
Contact: Bellevue Public Affairs, 212-562-4516