SPOTLIGHT ON: Veterans
By Christine Bruzzese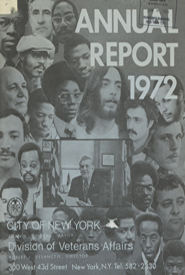 November 11 is the traditional observance of Veterans Day, honoring all men and women who served in the military forces. In honor of the occasion, this article features some resources on the military and veterans that can be found in the City Hall Library.
The Civil War and New York City by Ernest A. McKay presents a history of New York City and its involvement in this war. Chronicled are initial resistance to the war, effects on economy and finance and changing shifts in political power. One chapter is devoted to the draft riot of 1863, its causes, actual events and the aftermath.
The Mayor's Office of Veterans' Affairs was established in 1987 to assist military veterans and their families with issues of concern. Issues of New York Vets, a quarterly newsletter, published from 1988 to1990, offer information on programs for veterans, personal profiles, reports on such endeavors as the Korean Veterans Memorial Commission, etc. Annual Reports of this agency provide more information on the problems and concerns of veterans at the time and news on the Division's accomplishments. Holdings are from 1957 to 1972. More current information may be found at www.nyc.gov/html/vets/html/home/home.shtml.
Post War Opportunity and the Viet Nam Era Veteran was published in 1975 by the American Civil Liberties Union and the New York City Commission on Human Rights. Included is excerpted testimony from hearings conducted by the Commission on Human Rights in 1973. Discrimination in areas such as employment, housing and health benefits is discussed.
New York City and the U.S. Department of Veterans Affairs commissioned a task force to study the plight of homeless veterans in New York City and develop a strategic plan for assisting these veterans. A Progress Report on a New Way Home for Veterans Experiencing Homelessness in New York City was published in November 2008. A follow-up report was issued a year later. These studies analyze the problems involved and make suggestions for improvement. The second study reports mainly on the accomplishments of the Task Force.
Vertical files may also contain newspaper articles and other clippings of interest on related topics.
---
For more info on the City Hall Library, please visit our website.
To unsubscribe please go to this link:
https://www.nyc.gov/portal/signin.jsp
Comment on this news service:
http://www.nyc.gov/html/misc/html/news_feedback.html
PLEASE DO NOT REPLY TO THIS MESSAGE!