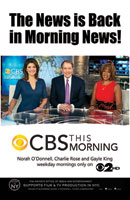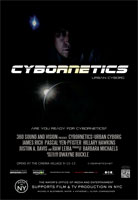 The "Made in NY" Marketing Credit showcases various production
that film in the five boroughs. Photos courtesy of MOME.
September 3, 2013 - Independent films, morning programs and a TV festival are part of the "Made in NY" Marketing Credit in September.

Cybornetics takes place in a future world of bio-mechanical technology and awe-inspiring scientific advances where humans share every aspects of their lives with their machines. Written and directed by Dwanye Buckle, the film opens on September 13 at the Cinema Village.

Filmed on Staten Island, Blue Caprice is a psychological thriller that follows the Beltway sniper attacks. The film, an official selection from the 2013 Sundance Film Festival, plays at the IFC Center beginning September 13.

Filmmakers Jean Tsien and Joshua Weinstein mixed with the colourful community of drivers, mechanics and office clerks working for a long-established taxi company in Queens for the film Drivers Wanted, which will soon be released digitally.

In Mother of George, directed by Andrew Dosunmu, a married couple from Nigeria manage a restaurant in Brooklyn and struggle with fertility issues. The film opens in theatres on September 13.

"CBS This Morning" brings news to its viewers each weekday morning with Norah O'Donnell, Charlie Rose and Gayle King.

VH1's "Big Morning Buzz Live" is the first dose of pop culture news, chat and entertainment in the morning. From the lobby of VH1's headquarters host Carrie Keagan, offers up-to-the-minute topical headlines, engaging celebrity interviews, and in-depth conversations.

The "Made in NY" Marketing Credit provides free co-branded advertising to productions that shoot the majority of their projects in the five boroughs. To learn more about the marketing credit, click here.


The marketing credit also extends to subway cards.
Photos courtesy of MOME.